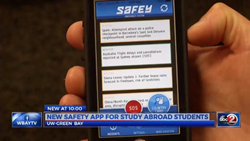 We are dedicated to improving student safety abroad and continue streamlining the process
Seattle, WA (PRWEB) October 10, 2017
When a crisis occurs abroad, one of the biggest challenges for study abroad administrators is answering the questions, 'who do we have there?', and 'are they OK?' The question of where has already been solved with SAFEY's patented, real-time location technology. SAFEY app users have always been able to raise an SOS in a time of crisis prompting a response from emergency services or study abroad administrators and transmitting their exact location. With the launch of SAFEY's new chat feature administrators can now initiate the communication, en mass, to confirm students' safety instantly.
In the case of an emergency that requires administrators to confirm the safety of a large group of students and faculty, this new feature makes the task quick and easy. SAFEY administrators initiate an Are You OK? request via the SAFEY admin panel in just seconds. Replies to the check-in request are shown on the SAFEY admin dashboard with the ability to further communicate, edit chat and verify check-in responses in real-time. Confirming the safety of a group of students, no matter their current location, can now be done in a matter of minutes instead of hours.
The new check-in feature has already been put to the test during the recent attacks in Spain. Check out the story and see how SAFEY performed.
"We are dedicated to improving student safety abroad and continue streamlining the process of confirming the well-being of SAFEY users during emergencies", said Brandon Ferrante, CEO of SAFEY LLC. "Modern risk management practices require instant communication and robust technology. We have worked closely with our existing clients to develop our new check-in feature specifically for the study abroad community. Our latest tool empowers study abroad programs to meet the needs of the continually evolving study abroad experience and increases the gap between our comprehensive risk management system and other tools available in the travel safety marketplace. For study abroad programs, we simply have the most advanced travel safety solution available."
About SAFEY Emergency System
SAFEY Emergency System, http://www.safeyglobal.com, is a mobile-based warning, communication, SOS, & location system that allows administrators to be proactive in protecting and communicating with their study abroad students and faculty. The SAFEY system helps study abroad administrators and program providers with innovative and indispensable risk management tools to improve student health & safety.