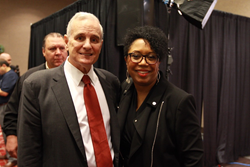 "We must do everything possible to ensure our public and private workforces better reflect the rich and abundant diversity of all Minnesotans." -- Governor Mark Dayton.
Minneapolis, MN (PRWEB) October 09, 2017
The People of Color Career Fair returns October 10 at the Minneapolis Convention Center for its semiannual hiring event. As the Twin Cities' largest career fair dedicated to professionals of color, thousands of candidates are expected to attend and connect with hiring managers from Minnesota's biggest employers and civic agencies.
Co-sponsored by Midco, Thrivent Financial and the State of Minnesota, the People of Color Career Fair provides an excellent recruitment resource for top employers to increase diversity and inclusion in the workplace and to decrease the unemployment disparity within Minnesota's minority communities.
Gov. Mark Dayton will be onsite for meet-and-greets with attendees and will publicly address attendees with remarks of support.

WHAT: Semiannual People of Color Career Fair to connect MN's top employers with thousands of qualified candidates at Twin Cities largest career fair dedicated to professionals of color.
WHO: Governor Mark Dayton, civic leaders, top area employers and recruiters, professionals of color.
WHEN: Tuesday, October 10, 2017, 10:00 a.m. – 3:00 p.m. (Free headshot room opens at 9:00 a.m.). Gov. Mark Dayton to deliver remarks at 2:00 p.m.
WHERE: Minneapolis Convention Center, Room 200, 2nd Floor, Minneapolis, MN
INTERVIEW OPPORTUNITIES: Governor Mark Dayton; Sharon Smith-Akinsanya, Founder, People Of Color Career Fair
PARTICIPATING EMPLOYERS: Midco, State of Minnesota, Thrivent Financial, U.S. Bank, Allianz Life Insurance of North America, Comcast, Target, Metro Transit, Bremer Bank, Lutheran Social Services of Minnesota, General Mills, Parsons Electric, Cargill, The Ordway, Hennepin County, Securian, City of Minneapolis, Anderson Corporation, Gillette Children's Specialty Care, RBC Wealth Management, Carmichael Lynch, Sleep Number, Ecolab, Siteimprove, Minnesota Judicial Branch, Buffalo Wild Wings, Atomic Data, Twin Cities Habitat for Humanity, Best Buy.
# # #
ABOUT PEOPLE OF COLOR CAREER FAIR
The People of Color Career Fair was founded in October 2016 by Sharon Smith-Akinsanya, owner of rae mackenzie group, inc., to actively address the unemployment and underemployment gap for people of color in Minnesota. The semiannual event makes it easier for Minnesota's top employers to connect with thousands of candidates of color and improve diversity workforce recruitment and retention efforts. It also creates opportunities for people of color to identify and get hired by employers who are actively seeking to create a more diverse workforce.
ABOUT SHARON SMITH-AKINSANYA
Sharon Smith-Akinsanya is the owner of rae mackenzie group, inc., a firm dedicated to advising and consulting Minnesota's top corporations including Fortune 500 companies such as Target, U.S. Bank, Comcast, Thrivent Financial, and the State of Minnesota on diversity recruitment, inclusion and retention strategies.
Sharon is a long-time Twin Cities resident with more than 20 years of experience as a strategist and diversity marketing consultant and advisor. She is known as a "secret weapon" to her corporate partners for giving them a competitive edge in marketing, recruiting, retaining and building stronger relationships with people of color. Her mission is to make Minnesota a great place to live, work and play for all.
CONTACTS:
Stephenetta Harmon
Kladé Group
Tel: 612-408-2829
skh@kladegroup.com
Sharon Smith-Akinsanya
The rae mackenzie group, inc.
Tel: 612-916-2673
sharon@rmgaccess.com