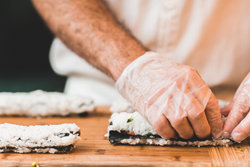 Providing quality information for a safer tomorrow.
(PRWEB) October 11, 2017
This program is recognized as a Certified Food Service Manager. It sets the standard with comprehensive food safety training and a National Accredited Certification Examination.
Through the ServSafe® Food Safety Sanitation and Safety Managers Training and Exam, a participate will learn the standards for maintaining a safe and health food service environment, including:
Proper hygiene techniques
Cross- contamination, sanitation, cleaning techniques
Keeping food safe from food-borne illness
...and many more!
Upcoming Course Dates:
October 19th & October 26th, 2017 (9:00 AM – 1:00 PM)
November 6th & November 13th, 2017 (9:00 AM – 1:00 PM)
December 4th & December 11th, 2017 (9:00 AM – 1:00 PM)
For more information and registration, please click here.