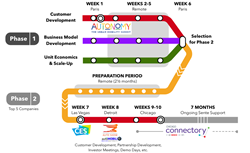 This is an exciting group of international startups who have the potential to make a big impact on how people move within and between cities in a healthier, sustainable and more efficient way
CHICAGO (PRWEB) October 16, 2017
sente.link International Accelerator kicks off its New Mobility program this week for international startups. This year-long program begins in Paris with an intense 6-week accelerator program with startups from seven different countries. Week 1 of the program will include participation at Autonomy Paris, the annual international event on the future of urban mobility.
The startups include:

CryptoWatt (Ukraine) – Blockchain-enabled platform for citizens to share & monetize electric car charging stations
Idatase (Germany) – A visual platform for analytics in Industrial IoT and Mobility
Umo (Israel) – The "urban AI brain" for sustainable urban mobility
Shuttle Planet (Slovenia) – Shared, demand-responsive transportation platform
Stroma Vision (Turkey) – Computer vision for vehicle safety
Fazel1 (Iran) – Dynamic in-motion charging system for e-vehicles
Navigato (Bulgaria) – A SaaS platform and IoT controller for management of electric vehicle charging stations
Make-my-Day (Israel) – A personal assistant to optimize routing for daily errands & tasks
The top 5 startups will then be selected to spend a month in the US, including opportunities to gain exposure and customer traction at events such as the Consumer Electronics Show in Las Vegas, NAIAS/Automobili-D in Detroit, and two weeks at Chicago's innovation hub, 1871 and the Connectory.
"This is an exciting group of international startups who have the potential to make a big impact on how people move within and between cities in a healthier, sustainable and more efficient way," said sente.link founder, Serhat Cicekoglu. "Partnering with Autonomy in Paris and bringing the top 5 startups to the US will give them a great opportunity to prepare them to become global players in mobility."
Applications are also open for sente.link's next accelerator, the Human Essentials Program, which focuses on innovations in FoodTech and AgrTech, and begins in Rotterdam, Netherlands in February 2018. Interested candidates can apply at http://sente.link/humanessentials.html.
sente.link is the exclusive international program accelerator for 1871, Chicago's center for technology & entrepreneurship and the largest tech hub in North America. New Mobility Lab creates a community where cross-industry collaboration and co-innovation, associated with the digital transformation of transportation and mobility happens through open innovation.