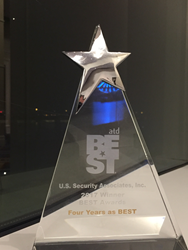 It is a tremendous honor to be recognized among the global elite as a leader in learning-based employee engagement, training and development.
ATLANTA, GEORGIA (PRWEB) October 10, 2017
U.S. Security Associates (USA), the market-leading, wholly-owned American safety and security solutions provider was recognized in an award ceremony among the world's foremost organizations for their talent and development programs at the Association for Talent Development [ATD] BEST conference in Washington, DC on October 5, 2017. This is the fourth time U.S. Security Associates has been honored with the coveted ATD BEST award and for 2017 is ranked 19th overall across all industries and additionally as the leader within the security industry for their innovative talent and development strategies.
Established in 2003, the ATD BEST Awards are the training industry's most distinguished and coveted recognition. The BEST Awards identify organizations that demonstrate enterprise-wide success through employee learning and development. Thomas Gasque, Vice President of Training and Leadership Development for USA, participated on behalf of the security company in a panel discussion detailing best practices for C-Suite engagement for training and development programs.
Gasque discussed USA's training, development and recognition initiative, SecuritySTARS®, which provides opportunities for specialization, skill enhancement, and career growth as a success story achieved through executive championship. Gasque said, "The success of our SecuritySTARS® initiative is directly linked to our executive team's commitment to prioritize our Associates. This commitment is evidenced in the executive team's engagement and investment in the training, recognition and career development of all our people. From conception to implementation, USA leadership has provided guidance and strategic insight to ensure the success of our top initiative which benefits our employees as much as it does the clients and communities we serve."
For the 2017 BEST Awards, the security company competed against organizations on a global scale representing all industries. These organizations submitted quantitative and qualitative information to ATD about their learning and development programs and practices. Applicants were then assessed in a blind review by members of the BEST Awards advisory committee, a select group of experts in the learning and development field.
Richard Wyckoff, CEO and President of USA, said, "It is a tremendous honor to be recognized among the global elite as a leader in learning-based employee engagement, training and development. By selecting the most talented individuals, investing in their careers and offering opportunities for skill enhancement, we are proud to be an employer of choice while providing our clients the best trained, most prepared Security Officers in the industry."
ABOUT U.S. SECURITY ASSOCIATES
U.S. Security Associates (USA) is the market-leading, wholly-owned, American, full-service safety and security solutions provider. With over 160 locally-responsive offices, international locations and over 50,000 dedicated professionals, they offer the most complete array of physical security, remote surveillance, and global consulting and investigations to ensure better outcomes for thousands of clients and a range of industries. Innovative applications of leading-edge, proprietary technology enables USA to rank annually among the world's best training companies, sustain the highest standards of quality, and underscore world-class customer service with unparalleled accountability. USA's rise as one of the largest innovative security solutions leaders is a natural byproduct of these differentiators and enable the company to provide the most Safe. Secure. Friendly.® environments for people, assets, and brands. For more information, visit http://www.ussecurityassociates.com.
###