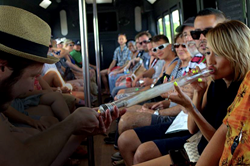 "Wine and cannabis have always been complimentary to each other, and this fusion of two of my favorite things is sure to please tourists and locals alike. We are thrilled to be collaborating with many amazing craft companies to provide the best of the gorgeous Bay Area." - Michael Eymer, CEO
(PRWEB) October 11, 2017
CannabisTours.com, the nation's largest 420-friendly cannabis tourism agency, is announcing two new California products beginning in October of 2017. On October 27th, Cannabis Tours will offer the first ever Bay Area Wine and Weed Tour for the discerning wine and cannabis consumer. Guests will smoke, sip, learn, laugh, and experience the best of the Bay Area's unique wine and weed culture.
The tour will begin at the Oakland Cannabis Creative, with a craft cannabis and mocktails experience with Top Shelf Budtending, and a tasting of infused wine from Melissa Etheridge's infamous brand Know Label. Afterwards, a cannabis-friendly limo bus will take participants across the Bay Bridge and into the city for a brief sightseeing tour. Guests will then be taken on a behind-the-scenes tour of woman-owned cannabis cultivation facility The Betty Project, to experience the way cannabis is grown in San Francisco and learn about the cultivation process. Those with a medical card will be able to order product via their delivery app, delivered right to the party bus after the grow tour.
No tour of the Bay is complete without a stop in Sausalito, so the route will make a quick stop for wine tasting and lunch, while enjoying the beauty of the water and all that the Bay Area has to offer. The final destination is Donkey & Goat, a sustainable, organic, and bio-dynamic winery in Berkeley, before returning to the Oakland Cannabis Creative to wrap up. Guests will have access to the on-site private lounge after the tour to relax and/or sober up before heading home. Uber and Lyft are also encouraged as safe transportation options.
Cannabis Tours is also excited to announce new Southern California locations with its sister company Puff, Pass & Paint, the original cannabis-friendly art class, which currently has locations in Denver, Portland, Washington D.C., Oakland, Los Angeles, and Sacramento. Puff, Pass & Paint Orange County will begin in Fullerton on October 19th at Comic Book Hideout, with bi-weekly classes to follow.
Puff, Pass & Paint has had great success nationwide, and focuses on creating a welcoming and legal space for cannabis users to consume and create without judgement. Classes are full of laughter, chatting, creative insights, and of course smoking, and while marijuana consumption is encouraged, it certainly is not required. Founder Heidi Keyes says that "cannabis and art are both so therapeutic, and the combination of blending them together in a setting that is welcoming and warm is an amazing thing to witness. With each class I teach, I'm reminded again how much I love what I do, and why." No artistic expertise is needed, and students of all legal (over 21) ages and skill levels are encouraged to attend. In 2015, Puff, Pass & Paint merged with Denver-based Colorado Cannabis Tours to create CannabisTours.com, and both have since continued to expand as additional states legalize.
CannabisTours.com began operations in Denver in 2014, offering tours, classes, events, vaporizer rentals, and cannabis-friendly lodging options, and currently has bases in 7 different US cities. Bookings can be placed through http://www.cannabistours.com, http://www.coloradocannabistours.com, or http://www.puffpassandpaint.com, or through their toll free 24-hour reservations line at 844-420-TOUR (8687).