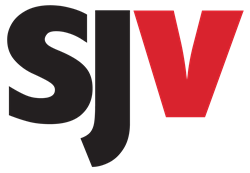 It is rare to receive an instant upgrade to your Sales Force, but we just applied a double dose.
Kennesaw, GA (PRWEB) October 10, 2017
SJV, supply chain leader to the background screening industry, announced today the expansion of its sales team through two key hires. Adam Abbruzzese has been named Senior Sales Executive, and Jennifer Klinge has been named Sales Executive.
Adam comes to SJV with over a decade of combined sales and client service experience, both in Senior Level and Management positions. His tenured experience in the healthcare industry provides valuable insight to customers of SJV that are seeking to expand this area of their business. "I love the saying 'success isn't owned, its rented, and the rent is due every day,'" said Adam Abbruzzese, Senior Sales Executive. "I am thrilled to pay the price of success every day for my clients and for SJV."
Jennifer brings over a decade of screening industry experience to SJV, with positions in procurement and business development at one of the largest CRAs in our marketplace. Her first-hand knowledge of supply chain management provides immediate value for SJV's customers that are working to consolidate and optimize their supply chain through SJV's solutions. "SJV is an established leader in the Background Screening Industry and I'm thrilled to have this opportunity," said Jennifer Klinge, Sales Executive. "I look forward to partnering with the entire SJV team to produce the highest level of value for all of our customers."
"I am thrilled to welcome two highly skilled individuals to the SJV Sales Team," said Nathaniel Borsh, Director of Sales. "It is rare to receive an instant upgrade to your Sales Force, but we just applied a double dose. I've already seen the impact and professionalism they both bring to our business, and I can't wait for them to show the rest of the industry and our customers what they're capable of."
ABOUT SJV
SJV is a Global Solutions Provider, combining innovative technology with human expertise. Driving the highest standards for time service and accuracy with Conventional Court Research, Automated Court Research, International Solutions, MedEx Solutions, and our Verifications Suite; SJV is the Premier Information Supply Chain to the Background Screening Industry.
SJV is also the only firm in its direct marketplace to maintain an ISO 9001:2008 Certified Quality Management System, ensuring superior quality research, results, and customer service, for their entire client base. For more information, visit http://www.sjvassoc.com, or contact us directly at 800.203.0582 and via e-mail to Solutions(at)sjvassoc(dot)com.