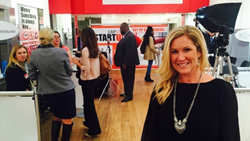 Start or Grow Your Business for Free.All of Your Business Needs, Curated in a Step by Step Process, Under One Roof, With Expert Guidance.
New York, NY (PRWEB) October 10, 2017
Get Ready Entrepreneurs! NYC is the next city that will benefit from JumpStart Connect the ONLY pop-up experience store for entrepreneurs, created by serial entrepreneur, author, and international motivational speaker, Jen Groover. The experience store allows FREE access to all entrepreneurs and aspiring entrepreneurs, to gain priceless amounts of advice, knowledge and resources to accelerate their growth. The store is open Tuesday, October 10 through Thursday October 12th, from 10 am – 7 pm at 393 Broadway (Soho district) NYC. Entrepreneurs can register for the event here. The entire experience takes about 60-90 minutes of time, depending on how much each entrepreneur wants to get out of it. Approximately 1,000 participants are expected to attend over the 3 days.
JumpStart Connect is a replication Jen's unique ability to break things down and simplify them for others. As a successful entrepreneur for over 20 years, her inspiration came frequently doing television and cable segments and speaking on entrepreneurship all over the world on how to start and grow a business in simplified steps, and seeing how impactful it was to others. Jen says, "I realized innovation often died before it even would take off because so many people felt so overwhelmed and under-educated on how to become an entrepreneur, or if they were already an entrepreneur, they struggled to get to the next levels of financial freedom." Then she thought, "Why not create stores that pop-up in each city where she could walk founders through those steps and curate all of the business services and products (brands) they needed under one roof to create a team of professionals to support and accelerate their companies going for-ward?". She eventually partnered with Pop-Up Retail pioneers, JBC & Associates, last year to make this dream that would impact so many, into a reality.
WHO IS JUMPSTART CONNECT FOR?
JumpStart Connect is for every entrepreneur, at every stage, who either feels overwhelmed by all the steps needed to grow their business; who wants to be up to speed on the best and latest products and services to help them grow; who wonders what are the most important things to invest in next; who feel like there is never enough time or ways to market their business; and who wonder how they can grow their business more quickly by leveraging their time and money more efficiently.
Entrepreneurs who have not yet launched their business will be connected to business services that will help accelerate their launch. Entrepreneurs who have owned their business for several years will benefit from a JumpStart Connect Pop-Up Store by being guided to the products and services that get them to the next level.
HOW DOES IT WORK?
Jen and her team bring the JumpStart Connect (formerly JumpStart StartUp) Pop-Up Experience Stores to entrepreneurs in different cities throughout the U.S. Jen has already held two JumpStart Connect Pop-Up Stores in Philadelphia, PA. After New York City, Jen plans to take JumpStart Connect Pop-Up stores to Chicago, Baltimore and Boston and eventually to other cities across the nation.
The pop-ups are set up like trade shows. Only instead of wandering aimlessly, attendees are greeted by an expert who walks them personally station to station to station introducing them to them each brand partner (a bookkeeper, a legal adviser, a media trainer, a web developer, video experts and many more) and explaining the value each service will provide their business so they can grow their business faster. Jen shares, "When the entrepreneur leaves here they will be more confident and knowledgeable than ever to take their business to next level."
Sally Young, Owner of Besoul Studios, shares of her Jumpstart Connect experience: "I walked in the door and it was incredible. Within minutes I was directed to everything that I was missing in my business to get started. Within an hour I walked out fully equipped and ready to go with a more solid foundation. So, any time you can take out of your life to pop into a pop up event it will extremely benefit your business be-cause you'll have everything you need in a one -stop."
BRAND PARTNERS
Brands like UPS, Insperity, and Comcast Business have partnered with JumpStart Connect because they understand the benefit of having all of these accelerated, face to face meetings, in one place, to educate entrepreneurs on their latest innovations and services as well as wanting to be a part of something so powerful, that gives back and creates economic and social impact to each community.
Partner companies pay JumpStart Connect a sponsorship fee in hope that these speed dates with entrepreneurs will turn into marriages. She says her partners collectively offer tens of thousands of free advice, service discounts and opportunities to support the small business from a bank helping the entrepreneur open a business checking account to a law office helping them get their LLC or sole proprietorship. "A free app, or free business cards, or a free video for your website. What could that do for small businesses and our economy when they can save thousands of dollars to grow faster?"
Jen and her team have researched and evaluated each brand they recommend and/or partner with to bring the best in class in each category of business. Current and past Brand Partners include JBC & Associates; UPS; TD Bank; MSC; Comcast Business; Alcom; Greco Promotions; Benjamin's Desk; Brinker Simpson; My Top Bookkeeper; The City of Philadelphia; Capstone Group; CH Solutions; Branded Simplified Impact; EARF Studios; Sprint; MyNewPhilly.com; I Am App Productions; Branded Productions; Blackbook llc; 30 Second Success; The Stanwood Group; Be Live; National Publicity Summit; and Inc. Magazine. For those interested
Greg Basile, Sr. Sales Manager, of Comcast Business says of their participation in JumpStart Connect, "JumpStart Connect is one of the most innovative things come to Philadelphia and soon to be all over the US. Working with entrepreneurs has been an important thing for Comcast Business. From shared space to getting their own brick and mortar or starting their business out of their home, Comcast has been to supply services to assist their business."
ABOUT JEN GROOVER
Jen Groover has been tagged by Success Magazine as a "One-Woman Brand," a "Creativity and Innovation Guru" and a leading "Serial Entrepreneur" by Entrepreneur Magazine and ranked #8 by SAP in the Top 51 Influencers of Human Potential. Jen Groover's name has become synonymous with innovation, entrepreneurship and transformation. She was recently nominated as a UN delegate to the first ever Global Accelerator for the Global Entrepreneurs Council. Jen's energy and multi-faceted, diverse wisdom make her a highly sought after international speaker for Fortune 500 companies to top Universities, Non-Profits, Chamber of Commerces, Business Conferences, and more on topics ranging from business to leadership, empowerment to emotional intelligence to healthy living, and enhancing productivity. Her influence and leadership has aligned her with amazing brands, such as Avon, Independence Blue Cross, Verizon, USANA Health Sciences and SkyMall, for which Jen has had various roles as a spokeswoman and consultant for brand development and leadership training.
Her success skyrocketed with the creation of the Butler Bag, the world's first compartmentalized handbag, that became a multi-million-dollar brand, and has not stopped since. Jen spring boarded the Butler Bag's success into an entire lifestyle brand, found at a variety of price points and well-known retailers, which is led to the creation of subsequent lifestyle brands, Leader Girlz, and Empowered by Jen Groover. Taking over two decades of entrepreneurial experience, Jen most recently launched the innovative economic and innovation movement for entrepreneurs and small business owners called Jumpstart Connect, a first of its kind pop-up shop, which kicked off in Philadelphia in October 2016, and is currently scaling to cities nationwide.
Jen has been a top business and lifestyle contributor and content creator for major television networks such as ABC, CBS, CNBC, NBC, MSNBC, Fox News, Fox Business News, and The CW. Jen also contributes editorial pieces to several prominent business magazines and online resources including The Huffington Post, Entrepreneur Magazine, Inc. Magazine, The Wall Street Journal, Positively Positive, The Daily Love, and HealthyStyle NY. Her products, brand and work have been featured in hundreds of media outlets including O! The Oprah Magazine, Redbook, People, US Weekly, SUCCESS and Forbes. Coming in the Fall of 2017, Jen will be releasing three books - a relaunch of her best-selling What If? & Why Not?, with up-dated resources, Optimized Potential, and #Empowered (based on her PBS Special), with Make this Matter & CO Publishing.
Jen constantly motivates and inspires through her keynote speaking engagements for corporations, universities and organizations all over the world. Jen continues to strive toward her ultimate goal, which is to innovate in every industry she is inspired to play in, while empowering others to achieve their goals. Jen is more than a multifaceted, multitalented individual - she is, undoubtedly, a force to be reckoned with. Jen believes in active participation and lives by the belief that "if you are going to complain about something you better be willing to inspire change."
Click here to view Jen Groover's complete bio.