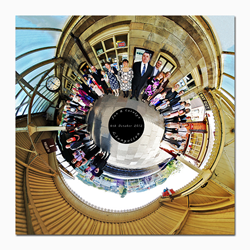 Washington, DC (PRWEB) October 10, 2017
Great News for soon-to-be married couples looking for something out of the box for their reception. Leading wedding photography and videography company The Wedding Mode has recently introduced 360 degree wedding video recording service for high-end weddings in Washington DC. It's the first time a company has come up with such state of the art videography services exclusively for the wedding scene.
Also known as immersive videography, 360° videography records each direction at the same time to render a comprehensive view of the entire recording. It is performed with an omnidirectional camera or an ensemble of cameras. The viewer would have full control on viewing direction during playback.
"We are thrilled to announce that we have just introduced cutting edge 360 degree wedding video recording in Washington DC. It will bring in a more immersive experience to your wedding video to make it more realistic and unforgettable. In fact, never before has a wedding video been this special. If you are going to take vows soon and are looking for an exclusive wedding video, our 360 degree wedding video recording service is just the thing to capture your most special day," stated Talha Gursoy, the founder of The Wedding Mode.
"We are confident our 360 degree wedding video recording would be a treasured legacy that you would love to share with your future generations. We are always upbeat about the latest trends and technologies to add new edge to our services. We keep ourselves updated about all the advanced video recording and editing techniques and we promise you a state of the art rendition with our new 360 degree wedding video recording. We have got all the latest equipments and skills to ensure a dynamic service. Our whole team is dedicated to make your wedding memories more special and memorable."
A name of big repute across the Washington wedding photography and video scene, The Wedding Mode has been operating for over a decade now. The company specializes in high-end wedding celebrations and is widely acknowledged for its creative and artistic outlook.
"We are your one-stop portal when you are looking for premium and advanced wedding photography & videography. After working at numerous weddings, umpteen venues and after hours of video recording- we know what it takes to locate and capture the 'must-have moments.' We are always looking forward to delight our valued clients with all the tiny details that sum up the whole essence of the celebration. From the loving glances to the friendly banter to the first kiss at the altar to the wistful eyes of the bride's father when he gives away his daughter- we capture everything at its best."
The company also extends engagement photography and videography services.
To know more, visit https://theweddingmode.com/.