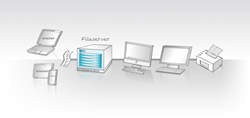 With Universal File Server, users can work from their preferred client(s) without compromise.
Hannover, Germany (PRWEB) October 11, 2017
HELIOS Software GmbH, a leading developer of cross-platform file server software, today announced that its Universal File Server software supports the new macOS 10.13, "High Sierra." All Mac users, up to macOS 10.13, can connect to their company server running the HELIOS software, to seamlessly work with their file server including Spotlight search and remote access. HELIOS also announced that its Document Hub app is fully compatible with the new iOS 11.
HELIOS Software has developed cross-platform file server solutions for decades, and offers a variety of services in its Universal File Server UB64 software. Known for its performance, security, and mission-critical reliability, Universal File Server is the only solution to provide:

File server for Mac, Windows and Web clients
File server access for iOS and Android mobile clients
Spotlight search to find server files via metadata or text content, from Mac, Windows, Web, and mobile clients
Turnkey server solution (VM for VMware & HyperV)
Synchronization of server volumes/folders, and for mobile app users
Easy-to-use administration GUI (for Windows, Mac, Linux/UNIX)
Behind the scenes, Universal File Server provides full cross-platform file sharing compatibility, so that users can work from their preferred client(s) without compromise.
Universal File Server runs on all major server platforms, including the new macOS 10.13, so businesses of any size can install it on their server of choice – from a Mac mini for a small workgroup, to enterprise grade servers.
Complete product details, including video guides, are available on the HELIOS web site http://www.helios.de. To learn more, or to download a Test Drive, contact HELIOS.
Smart Ideas for Better Networking
HELIOS UB64 Unbreakable Server Solutions deliver mission critical server solutions to enterprise, government, university, and prepress sites. The HELIOS Universal File Server UB64 software incorporates HELIOS EtherShare, PCShare, WebShare, Document Hub, and IT Monitor Server to provide integrated cross-platform networking for Mac, Windows, Web, and mobile clients, with advanced file and print server services, and easy remote server administration. HELIOS ImageServer, PDF HandShake and PrintPreview bring high efficiency and advanced capabilities to design, prepress and printing operations.
HELIOS products run on powerful and scalable servers including Apple macOS, IBM AIX, Linux, Oracle Solaris, and Windows systems. HELIOS products provide reliable cross-platform support for Mac, Windows, Web, UNIX, and mobile clients.
Distributors sell HELIOS products worldwide to value-added resellers who provide complete networking solutions to customers. HELIOS also works with many strategic partners that incorporate HELIOS server software to provide powerful third-party archive, asset management and workflow solutions.