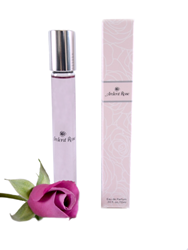 100% of the proceeds from the new Ardent Rose perfume rollerball supports career training for young adults with Autism.
Guilford, CT (PRWEB) October 11, 2017
Ardent Rose Eau de Parfum is a modern fragrance that evokes the warmth and passion of dewy citrus and fresh cut roses. But beyond the appeal of the fragrance's seductive smell is the cause it supports - Roses for Autism (RFA). 100% of the proceeds from Ardent Rose benefits the nonprofit organization. Now the perfume that captures the floral essence of the Lavande rose grown by RFA is available in a convenient rollerball.
At only $19.99, the Ardent Rose Eau de Parfum .33 fl. oz rollerball makes a scent-sational stocking stuffer or grab bag gift with a purpose for the holidays.
"We chose the name Ardent Rose because love has no limits," explained Michelle Ouimette, Managing Director of Roses For Autism and Ability Beyond. "For anyone who has ever loved so ardently: whether it's a desire to achieve a dream, the determination to change the world, or the soul of another…this fragrance embodies the passion of your love."
Roses for Autism debuted the original full size 1.7fl glass bottle of Ardent Rose in 2016. It is packaged in a lovely light pink box then placed in a clear bag with a dried Lavande rose and hand-tied with a pink ribbon by RFA interns. It is available for $42.99 with free shipping.
Roses for Autism helps individuals with autism and other disabilities achieve their goals of employment and independence. RFA transformed a defunct 38 acre family farm in Guilford, Connecticut into a thriving garden retailer that grows and sells a variety of fresh cut flowers including lilies, Gerbera daisies and roses.
The creation of RFA and Ardent Rose has been a labor of love in conjunction with parent company, Ability Beyond. Over one hundred young adults age 16-25 have gained positive work experience in all areas of the business, from the greenhouse to e-commerce. Interns have gone on to obtain jobs in industries such as retail, agriculture, technology, restaurant, hospitality, as well as the arts. Many have also enrolled in college courses and even started their own businesses!
The positive impact of the perfume and the unique social program has garnered national and local attention in Connecticut Magazine, Fragrantica, Hartford Magazine, NBC Nightly News and countless others.
When individuals with autism reach adulthood, the unemployment and underemployment rate is nearly 88%. Adding a non-perishable product to the RFA gift line increased their offerings while providing their interns with more business learning opportunities.
"People love to give and receive our flowers and perfume not only because they are beautiful, but because they know their purchase is helping these young people discover their talents and realize their true potential," said Ouimette. "The successes of our interns inspire us every day to continue our mission!"
Everything about the perfume is pure. The intriguingly sensuous essence combining Rose Absolute, Magnolia Petals, White Amber, Sandalwood, and many other enticing notes creates a signature scent that is not heavy or overpowering.
For Millennials looking to make more than a beauty statement, this product offers an immediate opportunity to make a difference.
"I got this fragrance as a gift recently and I am so in love with it!" exclaimed Gina Boyko in a customer review. "It has a very gentle scent, which is great because I usually can't use perfumes. It definitely smells lovely, and makes me think of Spring. I highly recommend it."
Roses for Autism helps individuals with autism and other disabilities grow their careers and cultivate their tomorrows. Based in Guilford, Connecticut, we are a nonprofit garden retailer that grows and sells fragrant fresh cut roses, other flowers, and unique gifts while also providing career training and mentorship to young adults.
Since 2009, Roses for Autism at the historic Pinchbeck Farm, in partnership with its parent company Ability Beyond, has helped over 100 individuals with Autism achieve success! Proceeds from flower sales and its exclusive Ardent Rose perfume fund its innovative programs and community sensory garden. For information visit rosesforautism.com/. Purchase the perfume at ardentrose.com/.
####