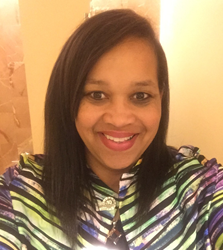 Lisa is exactly the kind of leader we celebrate at BPI - solutions-focused, caring, inclusive, and collaborative, she has helped Humana employees and users alike become even better through People First. - Louis Carter, CEO, Best Practice Institute
Palm Beach Gardens, FL (PRWEB) October 12, 2017
Lisa Moore is Customer Experience Director, Leader of Culture Transformation, at Humana.  Humana is a health insurance company based in Louisville, Ky., with over 51,000 employees.
"I am very excited and humbled to be receiving this award," Moore said. "To be named a Best Practitioner is the ultimate."
Moore is an innovative professional, skilled in interfacing with all levels of management, customers and employees, with demonstrated ability in organizational effectiveness, strategic planning, communication, and customer satisfaction.  She is respected for her leadership abilities and interpersonal, strategic conceptualization, cross-functional team building and consensus based decision-making skills. 
Before Humana, Moore led the consumer experience charge at a number of large companies. She was brought to Humana to unite a team of people to transform consumer-centric culture in the organization. 
As a result, Moore co-created PeopleFirst, which is a culture transformation process tailored to every group of consumers/users to meet their business and people needs. It worked. Within only 12 months of this launching, nearly 27,000 associates are taking part in the change effort on their way to various levels of certification in Humana's 5-level model.  Increases in both consumer and business metrics have been directly attributed to the work of her team in partnership across our enterprise.
While Humana is traditionally recognized as an insurer, it's really a health and well-being company. "We're focused on helping our members achieve their best health, regardless of if they are a Senior Games athlete or living with chronic conditions," Moore said. "We seek out the challenges people have with insurance companies and apply creativity to them. For some challenges, that means a high tech solution, such as facilitating prescription refills through our Humana Pharmacy app. For other challenges, it is a personal solution, including our nurses and care managers who work one-on-one with members on their health."
At Humana, it has "The Bold Goal," which is to improve the health of the communities it serves 20 percent by 2020. "We are measuring health by tracking the Centers for Disease Control and Prevention's Healthy Days," Moore explained. "Humana has a highly engaged workforce, and I think it goes back to relating to the Bold Goal." She added that it gives them higher purpose and makes them feel good about their contributions.
Roger Cude, Executive Vice President of Talent and Organizational Development at Humana said of Lisa's award, "Lisa has been able to help front-line associates pivot to a consumer-centric company. She is very deserving of the award for her work on "People First." Her work has shown strong results on key consumer and business metrics for Humana. She has done a fantastic job at creating and leading this elegant approach to prioritizing behaviors present in a world-class consumer company.   She is driving retention, engagement, and a strong customer-centric community of practice particularly in high volume centers for 'badged' Humana employees and third-party associates."
BPI was impressed with Moore's role in helping Humana's employees and customers by setting their sights on what really matters. "Lisa's strong solutions-specific competency and ability to execute on projects is impressive," said Louis Carter, Best Practice Institute founder and CEO. "We specifically look at leaders for the best practitioner award who are developing solutions that have proven business and consumer metrics and Lisa certainly fits the bill."
Best Practice Institute is a leadership and management think-tank and benchmark research company focusing on best and innovative business practices. BPI has more than 42,000 subscribers, from managers to senior and C-level talent, HR, and HR Tech executives, including corporate and individual members on five continents and executives and employees of more than half of the Fortune 500. Best Practice Awards are judged by C-Level, Fortune 1000 talent executives.
Click here to see Video of this news release.
More information about the Best Practice Institute is available at
[https://www.bestpracticeinstitute.org.
Media Contact: Scott Baxt, scottbaxt (at) bestpracticeinstitute.org, 561-693-2773.
Louis Carter LinkedIn Profile
Louis Carter website
Humana Website
Best Practice Institute Website