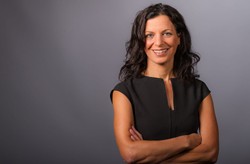 As the convenience of rideshares grow in popularity, we must be diligent about security, especially when it comes to our children.
Boston, MA (PRWEB) October 10, 2017
Zemcar, the family-focused rideshare that makes life easier for busy parents, has announced the appointment of Juliette Kayyem, a national leader in homeland security, former Assistant Secretary at DHS, and the author of "The Security Mom," as CEO. Shahid Azim, Entrepreneur in Residence at Harvard University and a serial entrepreneur in consumer healthcare startups, also joins as President and Chief Operating Officer. The Company also appointed new Advisors: Donna Levin, co-founder of Care.com, Laura DeBonis, formerly of Google and EF Education First, Cara Natterson, pediatrician and New York Times best-selling author, and Alan Bersin, formerly California's Secretary of Education and Superintendent of Public Education in San Diego. Bilal Khan, formerly Founder and CEO, moves to the role of Board Chairman and will continue to be the head of product and technology.
Kayyem brings to Zemcar decades of experience in business, government, academia and the private sector. Security is her career focus – she's run one of the few female-owned security companies, and she provides insight on national security issues and incidents as a Security Analyst on CNN. She is the Belfer Lecturer in International Security at Harvard Kennedy School, where she teaches emerging leaders in emergency management and national security. She also sits on the Trust Advisory Board of AirBnB, and is a Board Member of MassINC and the American Red Cross of Massachusetts. As the "security mom," Kayyem will continue to focus Zemcar's efforts on delivering on Zemcar's animating philosophy: safe drivers, secure riders.
"Zemcar's innovative model is focused on servicing today's busy families with a safer, more trusted answer to transportation and scheduling hassles," said Kayyem. "As a long-time advocate for safety and security, and a mother of three kids, I was drawn to its mission and strongly believe this is a service that every family can benefit from. As the convenience of rideshares grow in popularity, we must be diligent about security, especially when it comes to our children. I am committed to helping bring the Company to its next level – safely servicing families in the Greater Boston area and soon enough, other states with the same need."
The rideshare industry is at a precipice – while the value is now widely understood, the execution from the industry's first-to-market players has caused questions about safety and security for both drivers and riders. At the same time, in a recent survey reported by NBC, 35% of parents have stated that managing their children's transportation needs is considered more stressful than filing taxes. Zemcar is focused on solving this issue with game-changing safety and service features such as:

The only rideshare in Massachusetts insured for minors under 18
Ride monitoring via three-way communication
Live video feed
Circle of Trusted Drivers based on its patented algorithm
Kayyem brings unmatched security experience that will help to further Zemcar's safety-based mission and build trusted relationships with parents. "Juliette is one of the most recognizable, trusted and credible leaders in safety and security, and we are very excited to have her leadership as CEO. We have a big vision and excellent, scalable product, and she brings the unique skills required to take it to next level," said Bilal Khan, Founder and Chief Technology Officer. "Together, with Shahid Azim as our new President and COO, and the new and illustrious additions to our Board of Advisors, we are building a unique and talented and world class team, and a distinctively innovative and safe rideshare for families."
Learn more about Zemcar and why Kayyem joined the Company in this video: http://bit.ly/JNKVid
Shahid Azim, a former advisor, has also joined Zemcar as President and Chief Operating Officer. In his new role, Shahid will work closely with Juliette and the executive team to ensure successful execution of ideas to market delivery. Shahid has a track record of building world class teams around disruptive innovation and will focus on growth, talent and financing, Currently, he is a Partner at Ripple Ventures and also serves as an Entrepreneur in Residence at Harvard University, advising campus-wide research labs on commercialization and venture creation.
Zemcar also added four new Advisory Board members:
Donna Levin
Levin's experience building Care.com also lends itself well to Zemcar's mission, and will guide Zemcar's business strategy managing both a supply and demand side business model. Care.com is the world's largest online marketplace for finding and managing family care, with more than 25 million members, spanning 20 countries. Levin also helped build Upromise as Vice President of Operations. Levin is currently a Senior Lecturer at MIT Sloan School of Management and serves as an Entrepreneur-in-Residence at the Martin Trust Center for MIT Entrepreneurship.
Laura DeBonis
DeBonis brings a strong security background to the Advisory Board, having served on technology advisory boards in the past on security and privacy matters.  She serves as co-chair of the Technology Working Group of the Public Interest Declassification Board, to which she was appointed by President Obama in 2015. In the past, she has also held management positions at Google and EF Education First, serving in operational roles and in business development, and has served on project teams for the Berkman Klein Center for Internet and Society at Harvard University.
Cara Natterson
Cara Natterson is a pediatrician, consultant, and New York Times bestselling author of THE CARE AND KEEPING OF YOU, a 3-book series with over six million copies in print, and GUY STUFF, all published by American Girl. A graduate of Harvard College and Johns Hopkins Medical School, Cara trained in pediatrics at University of California at San Francisco. Cara also travels the country speaking to kids, parents, and companies about the issues and challenges facing tweens and teens.
Alan Bersin
Alan Bersin's dedication to public service, education and security aligns well with Zemcar's brand promise to families. Alan has served as an Inaugural Fellow in the Homeland Security Project at the Belfer Center at the Harvard Kennedy School of Government, as a Global Fellow at the Wilson Center for International Scholars in Washington D.C., as Assistant Secretary for Policy & International Affairs and Chief Diplomatic Officer in the U.S. Department of Homeland Security (DHS), as Vice President of INTERPOL for the Americas Region and as a member of the INTERPOL Executive Committee. He served through 2016 as Chair of the Advisory Committee for the International Policing Division Steering Committee of the International Association of Chiefs of Police (IACP). Bersin was also appointed as U.S. Attorney for the Southern District of California by President Bill Clinton, and he has held numerous other distinguished state and local government positions, including serving as California's Secretary of Education, Superintendent of Public Education in San Diego, and Chairman of the San Diego Airport Authority.
About Zemcar
Zemcar is a mobile app-based transportation company, providing a trusted, insured rideshare for families. Founded in Boston, Zemcar is a unique solution: the only video-enabled rideshare in the world, the only rideshare company in Massachusetts insured for unaccompanied minors, and the world's first rideshare with live stream video from inside the car to the customer's phone. Zemcar provides families with a trusted circle of drivers that they can recommend to other users, and allows one time or recurring, scheduled rides, enabling parents to plan ahead and better meet their family's ongoing transportation needs.
The company's service is currently open to Greater Boston residents. For more information, visit http://www.zemcar.com.