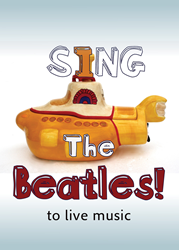 The only thing better than singing is more singing. - Ella Fitzgerald
San Rafael, CA (PRWEB) October 10, 2017
The Quarry Persons have led standing room only "Sing the Beatles" events for the San Francisco Free Folk Festival for several years, rocked the Kensington Circus Pub for many a Saturday Night and more recently performed to a sell-out night with dancing in the aisles at the Freight & Salvage in Berkeley.
Come and sing along to favorite Beatles songs with all those memorable lyrics projected on the large Hoytt Theater screen. Sing, get up and dance, or just come for the music, fun, and atmosphere! A great evening for all ages.
The Hoytt will be set up pub style with concessions inside, cabaret table seating and cozy couches in the back.
All are invited to come share their voices together!
What to Expect:
A great Beatles cover band offering live music and back up for singing in Hoytt Theater. Cabaret table seating, supertitles of lyrics projected onscreen, and room for dancing.
Concessions: Beer, Wine, Peet's coffee, Numi Teas and a variety of snacks and freshly baked goods available for purchase.

Concessions are offered within the theater may be enjoyed throughout the performance.
No table service.
Tickets: http://bit.ly/2xW9X9R
$20 advance || $23 day of
$5 kids 17 & under
Marinjcc.org/arts
WHEN:Sat. Nov. 18 @ 7:30: pm || Doors: 7pm
WHERE: The Osher Marin JCC, 200 North San Pedro Road, San Rafael.
PARKING: Ample FREE parking.The JCC is 1/2 mile E off 101.
CALENDAR EDITORS PLEASE NOTE:
SING THE BEATLES with The Quarry Persons
Sat, Nov. 18, 2017: 7:30 pm
The Osher Marin JCC
Doors/Concessions: 7pm
Sing to the Music of the Beatles from the Quarry Persons
The Osher Marin JCC
200 N San Pedro Rd. San Rafael, CA
Marinjcc.org/arts
Coming Soon:
The Other Cafe Comedy Showcase presents:
The 8th Annual Stand-Up Comedy New Year's Eve Celebration
Sun, Dec. 31, 2017: 9:00 pm
The Kanbar Center for the Performing Arts is the Performing Arts Department within the Osher Marin Jewish Community Center in San Rafael, California. For close to 25 years they have spread the power of music, voice, humor, taste, culture, movement and words throughout the community by presenting classical music, comedy, musical concerts, jazz, theater and performance in the grand Hoytt Theater, lectures, chats and demonstrations in the Kurland Lounge.