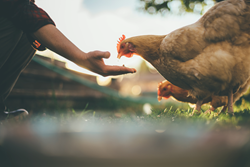 Washington, D.C. (PRWEB) October 12, 2017
Farm Forward joins Bon Appétit Management Company, Cal Dining at the University of California Berkeley, and other leading institutions in announcing the launch of the Leadership Circle, a program that leverages the buying power of institutions to change the way animals are raised for food.
Founding members of the Leadership Circle also include Airbnb's Portland office, Dr. Bronner's, and Hazon, the largest Jewish sustainability organization in North America.
"These institutions are leaders in aligning values-based purchasing," says Ben Goldsmith, Executive Director of Farm Forward. "Through thoughtful procurement policies, they are improving the welfare of farmed animals while meeting their customers' demands for more ethical and sustainable products."
Members of the Leadership Circle commit to purchase only third-party certified higher-welfare products in at least one product category, like eggs, within two years. Members also commit to support farmers raising animals under optimal conditions, and in doing so, help to rebuild a network of sustainable farms in America.
Members benefit from Farm Forward's team of food systems professionals, who help institutions evaluate their current suppliers of animal products, connect with higher-welfare producers, and employ strategies for successfully transitioning to higher-welfare products. "The technical assistance offered by Farm Forward helps institutions align their supply chains with their institutional values by providing a comprehensive set of tools and ongoing assistance, free of charge," explains Claire Fitch, Farm Forward's Director of Outreach. The Leadership Circle is an official partner of the Real Food Challenge, helping colleges and universities that have signed the Real Food Campus Commitment source more humanely raised animal products to meet their commitment by 2020.
Farm Forward's Leadership Circle program is funded in part by the Open Philanthropy Project and the American Society for the Prevention of Cruelty to Animals.