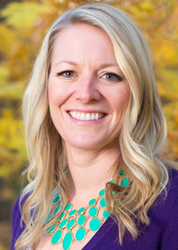 Mt. Horeb, WI (PRWEB) October 10, 2017
Dr. Angela Cotey, accomplished dentist, honors National Dental Hygiene Month by teaching patients how orthodontics can lead to improved oral health. Patients who have trouble caring for their teeth due to crowding are encouraged to receive Invisalign® clear braces in Mount Horeb, WI, to improve their oral health and appearance.
Those interested in receiving braces in Mount Horeb, WI, are encouraged to receive a consultation from Dr. Cotey, a respected dentist, and find out if Invisalign aligners are a good option for them. When teeth are crowded, they can overlap and become crooked making it difficult to clean them properly with at-home care. As a result, plaque can become trapped between crowded teeth and lead to tooth decay or gum disease.
It is important to note that special steps may need to be taken while wearing traditional orthodontics to ensure that the teeth are adequately cleaned. Brackets and wires cover portions of the teeth and make it challenging for patients to floss and brush all surfaces. Dr. Cotey offers Invisalign solutions, which eliminate this common problem by allowing patients to remove them each time they need to brush or floss. Invisible aligners make it much easier for patients to keep their teeth clean and healthy while they receive orthodontic treatments. They are also more comfortable than traditional braces because they do not require metal components that can harm the sensitive inner lips and cheeks.
Patients who want to receive braces in Mount Horeb, WI, are encouraged to consider discreet, comfortable and convenient Invisalign treatment. Those who want to schedule an appointment with a skilled dentist can call Village Smile Care 608-433-2102.
About the Doctor
Dr. Angela Cotey is a general dentist offering personalized dental care to patients in Mount Horeb, WI. Dr. Cotey and her entire team take pride in offering the latest advancements in dentistry and dental technology to ensure each patient enjoys a comfortable experience with long-lasting results. Dr. Cotey combines advanced dentistry with a fun and friendly style. She is a member of numerous professional organizations including the American Dental Association, the Wisconsin Dental Association, American Academy of Cosmetic Dentistry, Fellow in the Academy of General Dentistry and current President of the Wisconsin Dental Study Club and Madison Dental Progress Forum. To learn more about Dr. Cotey or the services she offers, please visit her website at http://www.villagesmilecare.com or call 608-433-2102 to schedule an appointment.