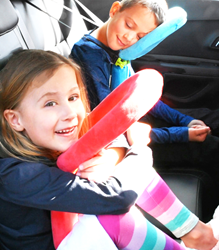 Our new FaceCradle Lite is lighter, smaller and less in-your-face, and it's perfect for all forms of transportation – especially for parents who are trying to get their children to sleep on long trips, whether in the car or on a plane.
New York City (PRWEB) October 11, 2017
After setting all-time records for travel pillow presales on Kickstarter in 2016, FaceCradle has announced the introduction of FaceCradle Lite on Kickstarter – a model that's 35 percent smaller and lighter and suitable for children and adult travelers alike and still features the five sleeping modes like its popular predecessor.
FaceCradle Co-founder David Scrimshaw says that FaceCradle Lite, and its original version, are both designed so "you fall into it and fall asleep" – unlike other travel pillows on the market where travelers' heads aren't supported properly so they fall off them and awaken. FaceCradle is the best option for sleep behind a business class sleeper and truly is an "upgrade to sleeping class" for economy travelers.
"We listened to our customers and came up with a more versatile travel pillow," Scrimshaw said. "Our new FaceCradle Lite is lighter, smaller and less "in-your-face," and it's perfect for all forms of transportation – especially for parents who are trying to get their children to sleep on long trips, whether in the car or on a plane."
FaceCradle Lite is available at a special introductory price of $29 (USD) at a super early-bird discount during crowdfunding – compared to a regular retail price of $54 when the crowdfunding campaign is completed.
Unlike other travel pillows on the market, FaceCradle Lite is designed for the way people actually sleep, with their head in a horizontal position. FaceCradle Lite presents five sleep modes for travelers. Each provides multiple options for comfort, including a deep-sleep mode that simulates the natural horizontal sleeping position – along with a face-down position (as if in a massage chair) that can be used even while the traveler is seated in a vertical, economy-class seat.
Thanks to the support of more than 19,000 backers on their initial Kickstarter Campaign, Scrimshaw says the company established world-class product quality, manufacturing, fulfillment, online systems and customer service. FaceCradle is now distributed to over 20 countries including the United States and more than 100,000 have been sold in just over 10 months. However, Scrimshaw notes that it's "unbelievable" that FaceCradle is still not available in any U.S. Airports.
"To replace existing products supplied by established travel-good suppliers in retail stores is the next step for our company," he said. "In stores, often consumers are 'just looking' and will not engage with sales assistants, so advertising has to be committed to drive consumers into stores to buy immediately. Retail shelves are never empty, so for FaceCradle to dislodge existing products requires a lot of resources. That's not easy to do, so we're launching this second Kickstarter campaign to broaden public awareness, and to help set the marketing and distribution resources in place for retail expansion."
While he says the company is excited about the rapid growth of FaceCradle worldwide, with that growth there is still much more to do.
"Our sole objective is to put an end to sleepless travel and enable all of us in economy seats to have the option to 'Upgrade to Sleeping Class,'" he said.
To find out more about the most popular travel pillow on the market today and to order its new, lighter and more versatile version, visit the FaceCradle Lite Campaign Page on Kickstarter.
About Hairy Turtle Pty Ltd
Hairy Turtle Pty Ltd was established in 2015 by David Scrimshaw and Roz Ruwhiu. David is a seasoned entrepreneur, marketer and product designer who has built and owned famous brands and developed more than 30 innovative products including FaceCradle. Roz is a senior executive in the advertising industry and has been Head of TV for some of Australia's leading agencies. Roz has produced many memorable commercials. Each hold the traits of being a tortoise and a hare at different times, hence the quirky company name.
Their first product together, FaceCradle, set records on Kickstarter in August 2016. It is the number one backed travel pillow of all time, having raised more than $1.1 million (USD) – almost three-times more than any other travel pillow. In a little over one year, FaceCradle has sold more than 100,000 units and is distributed to more than 20 countries.
For more information, visit the FaceCradle Lite Campaign Page on Kickstarter