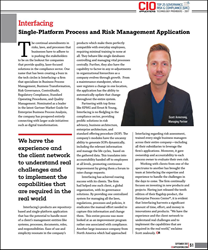 We have been promoting risk & control assessment by process for years! Glad that widespread adoption is now here within the latest compliance requirements.
Montreal (PRWEB) October 11, 2017
Interfacing is proud to announce that CIO Applications magazine has named the Enterprise Process Center® (EPC) in its list of Top 25 Governance, Risk and Compliance (GRC) solutions for 2017. The CIO Applications editorial team conducted extensive research of GRC technology solution providers world-wide and compiled a list of the leading GRC solutions that align with today's evolved requirements. . Read article publication: Click Here
The recent requirement to assess risk by process within regulatory and compliance programs such as ISO 9001:2015 and IMF have forced organizations to relook at the way they capture, analyse, and mitigate risk. "Interfacing's deep roots in process based risk management and governance solutions gave us a leg-up on the competition," said Scott Armstrong, Interfacing Managing Partner. "We have been promoting risk evaluation by process for years so we are glad that widespread adoption is now here. The same risk can vary significantly in weight from one process to another so it's important to identify the location of the threats and adjust the mitigation strategy based on cost and risk appetite."
Interfacing Enterprise Process Center® (EPC) is a central repository based transformation platform that facilitates documentation, governance and change management of all business entities. EPC is intended to reduce the cost & effort to comply with complex GRC requirements while gaining significant strategic and operational business value. Managers must understand not only how their organization operate today but also how their target operating model will affect the delivery of stakeholder value. Moreover they need to adapt, aligning externally focused customer-driven interactions with internally focused business operations, measure this alignment and deliver real-time feedback on any business initiative.
"Being listed in the top 2017 25 GRC technology providers by CIO applications validates the investment and approach taken within our new EPC10 platform released earlier this year," says Interfacing CEO Jean-Francois Sauve. "We are dedicated to bridge the collaboration gap between risk, audit, compliance, quality, IT and improvement teams within a single standardized knowledge base."
Partnering with the BIG 4 auditing firms, interfacing has built EPC around their vast experience in the compliance sector, providing real world solutions for risk advisory, business architecture, and standard offering procedure (SOP) management. EPC has robust assessment and audit features to address complex GRC challenges, while is designed for the everyday business user to ensure adoption and accountability at all levels of the business. Aligning compliance and risk management initiatives with continuous improvement programs, EPC augments business value derived from GRC efforts to provide organizational performance and growth.
About Interfacing Technologies
Interfacing Technologies is a global leader in business transformation, empowering organizations to efficiently govern business complexity through process based quality, performance and compliance management solutions. Interfacing's BPM solutions are intuitively designed for business users; facilitating multiple organizational programs within a single platform and covering the full spectrum of quality, improvement and governance initiatives.
For more information, visit http://www.interfacing.com or write to sona.javid(at)interfacing(dot)com