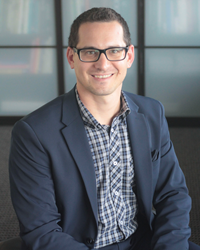 I'm excited to be a part of an organization that makes a real difference in people's lives every day through intelligent digital fundraising experiences
Dallas, TX (PRWEB) October 12, 2017
Pursuant, a full-service fundraising agency serving nonprofit organizations, is proud to welcome Mikey Centrella as Director of Digital Strategy. Mikey brings more than 15 years of experience leading digital marketing, social media strategy, and consumer-branded communications for both the private and nonprofit sectors.
In his role as Director of Digital Strategy at Pursuant, Mikey will guide engagement campaigns, digital fundraising campaigns, paid media, and search and display marketing, email campaigns, social media storytelling, website design, mobile platform development, and more.
"I'm excited to be a part of an organization that makes a real difference in people's lives every day through intelligent digital fundraising experiences," Mikey said. "Over the past few years, the expectations of constituents, donors, supporters, advocates, and alumni have changed. They want to be engaged and solicited where they are and on their own terms. Fundraising teams have to think like digital marketers to meet their audiences' changing expectations. Pursuant helps teams get there by connecting the dots between constituents and data so that fundraisers can make better asks and raise more."
Prior to joining Pursuant, Mikey was the Director of Digital Communications for the National YoungArts Foundation, an arts nonprofit focused on identifying and rewarding the most talented 15-18 year-old artists in the visual, literary, design, and performing arts. The digital strategy and campaigns that he forged across all digital channels generated applications from young artists, built brand awareness, attracted new supporters, and increased donations.
"The extensive experience and firsthand knowledge Mikey brings will be a huge benefit for our clients as they work to leverage digital channels to enhance engagement with constituents and build deeper connections with today's donors," said Pursuant CEO and President, Trent Ricker. "We're incredibly happy to have him on our team."
In addition to his time working in the nonprofit world, Mikey previously served as Vice President at Publicis in New York City, where he led digital and integrated marketing campaigns for some of the world's largest global brands of P&G, Citibank, General Mills, and more. The award-winning activation campaigns he helped execute broke through and intersected social conversation, digital engagement, and traditional consumer marketing.
"In today's fast-paced, technology driven environment, there are new ways to assess propensity, affinity, and capacity with greater accuracy and efficiency," Mikey said. "Pursuant is a leader in creating data-driven solutions from donor intelligence and in building remarkable experiences supported with smart campaigns that attract, engage, or convert audiences."
Mikey earned a Bachelor of Arts in Communications from the University of Minnesota. He currently lives in Miami, Florida, with his wife, their 6-month-old son, and a beagle.
The Pursuant Group (http://www.pursuant.com), based in Dallas, Texas, exists to inspire passionate people to change the world through great causes. For more than 15 years, Pursuant has helped hundreds of nonprofit organizations raise millions of dollars. As a full-service fundraising agency, we help our clients get new donors, keep them longer, and increase their giving to the organizations they care deeply about. We believe that data science married with award-winning creative results in deeper relationships with the right donors. Visit us at http://www.pursuant.com to help you achieve your fundraising goals.