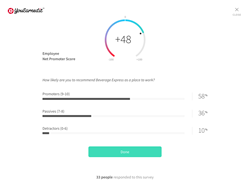 Austin, TX (PRWEB) October 11, 2017
YouEarnedIt, the leading HR SaaS company that improves bottom-line performance metrics by enhancing the employee experience, today announced updates to its Surveys feature suite. The new enhancements allow HR administrators to create a culture of continuous, real-time feedback by empowering employees and HR with a lightweight, fast, and anonymous way to capture and act on employee opinions and feedback.
YouEarnedIt Surveys now includes an Employee Net Promoter Score (eNPS) in addition to its upgraded Pulse Survey and Custom Question survey options:

eNPS provides rapid feedback on employee satisfaction and overall cultural health at the individual, team, function, and enterprise levels. HR administrators can compare eNPS between different internal organizational groups, use scores to assess the likelihood a workforce will assist in recruiting efforts, and track the company's score over time to measure improvements.
Pulse Survey gives HR the ability to measure and track the strength of company culture in real-time throughout the year. Users can choose from eight pre-designed questions based on proven factors that impact strong culture, lead to deeper engagement in an employee's work, and enable employees to feel a sense of personal responsibility for their team and company success.
Custom Question enables HR teams to quickly learn what matters to their workforce by using personalized, open-ended question. With this survey feature, users are now able to add up to 20 multiple-choice answers to a single question.
"We introduced our Surveys functionality in May and we are pleased to see how our customers are using it to learn what matters most to their employees," says C.K. Sample III, Chief Product Officer at YouEarnedIt. "By enhancing our Surveys tool, we're extending the capabilities of the YouEarnedIt platform while empowering companies to get a real-time grasp on what their employees want at work."
Further enhancements released with Surveys include:

Shareable links to send private or company-wide surveys via email or Slack
Ability for users to reply with text responses on multiple surveys
Capacity to run multiple surveys at once
Improved dynamic filters that segment survey results by groups
Easy result export via CSV for all survey types
New user Surveys page to see live and prior survey results
YouEarnedIt is actively working to expand its platform functionalities to create the industry's most innovative technology for businesses to make a lasting impact on culture and employee engagement. To learn more about YouEarnedIt, visit http://www.youearnedit.com.
About YouEarnedIt
YouEarnedIt is the employee experience platform powered by the science of motivation and the mission of improving the lives of employees everywhere, one company at a time. Founded in 2013, YouEarnedIt grows company culture and improves bottom-line performance metrics through its robust engagement platform that delivers recognition, rewards, incentives, and team insights. Named to Entrepreneur Magazine's list of Best Company Cultures in 2017, the Austin-based SaaS company and its technology platform are built on the four pillars of employee experience: connection, meaning, impact and appreciation. To request a demo, visit http://www.youearnedit.com/demo.