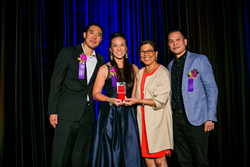 . "We are on a 'Quest for Zero', aiming to minimize all aspects of our daily consumption, from our carbon footprint to food and packaging waste. We would like to thank the ABA for honoring us with this prestigious award and hope to inspire other social entrepreneurs." - Kenneth Wu
LOS ANGELES, Calif. (PRWEB) October 11, 2017
Los Angeles-based Milk and Eggs, an online grocer modeled after a farmer's market, was honored as the "Social Enterprise of the Year" at the Asian Business Association (ABA) 41st Annual Awards. This award recognizes the company's work to better serve the LA community through its environmental and socially-conscious business practices.
Each year, the Asian Business Association (ABA) honors Asian American leaders by recognizing corporations that consistently support the Asian business community to provide opportunities and an environment for Asian American entrepreneurs to flourish.
"The environment and our community is important to us and we feel a responsibility to do what we can to help and save it," said Kenneth Wu, founder and CEO of Milk and Eggs. "We are on a 'Quest for Zero', aiming to minimize all aspects of our daily consumption, from our carbon footprint to food and packaging waste. We would like to thank the ABA for honoring us with this prestigious award and hope to inspire other social entrepreneurs."
To learn more about Milk and Eggs' Quest for Zero and other good will initiatives, visit http://www.milkandeggs.com.
About Milk and Eggs
Milk and Eggs is an online grocery store that partners with local farms and businesses to bring fresh, quality products at low prices directly to your doorstep with a free, eco-conscious delivery service. Milk and Eggs redefines traditional farmer's market shopping and online grocery shopping into a community development project that allows customers to lead healthy lives and support the local economy while spending less time driving or at the grocery store or market. In one year, Milk and Eggs has grown to staff 80 employees and serve 40,000 customers in the Los Angeles County area. The company is committed to giving back to the community and its aggregated delivery method allows for a minimal carbon footprint by reducing emissions by up to 90 percent.
About Asian Business Association of Los Angeles (http://www.abala.org/)
Since 1976, Asian Business Association has been serving Asian American small businesses, assisting them to gain access to economic opportunities and advancement. ABA provides members with current information on business opportunities and outreach programs with major corporation and public agencies. Through our activities, we continue to build a strong business relationship among our members.