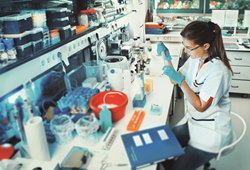 (PRWEB) October 11, 2017
Front Row Solutions, creator of a class-leading CRM platform that enables organizations to track and improve mobile worker efficiency, compliance and performance, announced today that it has released a new iOS and Android app designed to help pharmaceutical companies significantly improve how they access essential clinical laboratory data.
Traditionally, the only way that most pharmaceutical companies can access critical clinical laboratory data is by having mobile workers visit each lab, manually capture data on forms, and submit them to analytics departments for integration with dashboards and reports. In addition to being costly, inefficient and time consuming, the process is vulnerable to human error at both the data gathering and data inputting stages.
Front Row Solutions' new app dramatically streamlines this process so that it is faster, easier and more reliable. Based on the information they need to capture, pharmaceutical companies simply and rapidly create a customized form and link it with the designated mobile worker's list of lab visit assignments. An unlimited number of questions can be created using several different input fields, including: free text, numeric, alphanumeric, sliding scale (1-10 or 1-100), probability-based, net promotion score, multiple choice, multiple answer, yes/no, true/false, and task assignment.
When the designated mobile worker visits a lab, he or she launches the app, answers all applicable questions, and submits the data. Within seconds, the information automatically populates and updates customized dashboards and reports. Furthermore, on subsequent visits the mobile worker can review previously-submitted forms to track each lab's changing capabilities.
Commented Etien D'Hollander, President of Front Row Solutions: "Although an estimated 70 percent of medical decisions are based on clinical laboratory test results, there continues to exist a wide disparity in capabilities and performance levels from lab to lab due to everything from variances in equipment, budgets, staffing, focus, and so on. Our new app is a direct result of what pharmaceutical executives have told us they urgently need, but what they cannot get from existing CRM products."
Continued Mr. D'Hollander: "By closing the data gap with clinical laboratories, our new app helps pharmaceutical companies save money and time, while ensuring that they get the reliable insights they need to make smarter and faster decisions."
For more information or to set up a free trial call Front Row at 1-800-986-0983, or visit the Front Row web site at. http://www.frontrowsolutions.com
About Front Row Solutions
Front Row Solutions (FRS) a North American company, was founded in 2008 to improve the Customer Relationship Management (CRM) process with a focus on the mobile worker and mobile data collection. The prime directives around the creation of FRS was ease and speed of use, 100% mobility, improved mobile worker productivity and increased information flow from the field. FRS is a customizable app based system which can be loaded on any smart phone or tablet and allows a mobile worker to submit a report or form immediately after a customer interaction in 60 seconds or less. FRS' unique real-time paperless reporting capability (with optional geo location tracking) gives management better reports and insight into all mobile worker and client activity. FRS can be used as a standalone system or it can be integrated into current legacy CRM or ERP systems, effectively becoming the front end of some not so user-friendly systems.