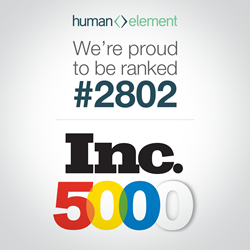 It's been a privilege to work with so many talented individuals.
Ann Arbor, Michigan (PRWEB) October 23, 2017
Human Element, a full-service digital agency, has been awarded a spot on the 2017 Inc. 5000 list. Now in its 36th year, the Inc. 5000 has featured well-known organizations such as Clif Bar, Under Armour, Microsoft and Patagonia. Human Element joins this group of accomplished companies at #2802 this year alongside powerhouses Halo Top Creamery, Bitly and Orangetheory Fitness.
With only 38 full-time employees on the Human Element team, this level of growth is an extraordinary achievement. In 2014, the company employed 11 full-time employees and served approximately ten clients. Today, both the number of clients and employees has more than tripled. Last year, Human Element achieved 49 percent revenue growth and is projected to hit 58 percent revenue growth this year, bringing even more opportunities to the company and its clients.
"The Inc. 5000 award is a reflection of the dedication of our entire team," said Managing Partner Jason Magee. "Everyday I'm proud to be part of this organization, and grateful we had the opportunity to start Human Element almost 15 years ago."
It was not without thousands of hours of hard work that Human Element has reached this level of success. Founded in 2005 by Magee and fellow Managing Partner Ben Lorenz, the company was built on the dream of offering software development and consulting with a team of approachable, considerate professionals that value the human connection - thus its name.
Magee and Lorenz hit the ground running, and they haven't stopped. The company was run entirely by the two-man team for two years until the demand was too great and the duo gladly added their first employee in 2007.
Since then, not only has Human Element continued to provide the same level of experience and success to clients, but now offers new services that enhance the strategic support for their clients' businesses. Once considered just a software agency focused on development with Magento, today Human Element is a full-service digital agency offering digital marketing, creative and brand development, user experience, customer research, and conversion rate optimization assistance alongside traditional development services.
As the organization celebrates this incredible accomplishment for 2017, the possibilities ahead are greater and more exciting than ever.
"We've always succeeded when we work as a team and hold the best interests of our clients in mind. Our collective hope is that we can continue to grow with our clients and benefit our community through thought leadership and local outreach," said Lorenz. "Growing in size has been a welcome challenge for our entire team, but the experience gained in the process is paying huge dividends as we expand services and add new humans to our family. It's been a privilege to work with so many talented individuals. It's a shared success across the board."