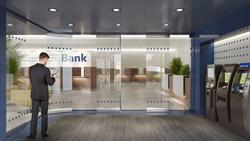 Greenfield, Ind. (PRWEB) October 12, 2017
New from Modernfold, the ComfortDrive® Self-Driving Panel System is a revolutionary advance in space division technology. Modernfold's ComfortDrive® system quickly and effortlessly reconfigures room spaces on command, saving time, effort and money while meeting user-specific needs for safety, space division, visibility and security.
Modernfold's ComfortDrive® is the versatile, premium solution for high-end architectural settings. This self-driving panel system can be programmed to create a wide range of space solution arrangements. At the touch of a button on the system's convenient touch pad, Modernfold's premium Compactline® glass panels automatically move to any of your personalized configurations.
The self-contained, motorized panel system brings true automation to what has historically been a manual process. ComfortDrive® is ideal for banks, office lobbies, conference areas, interior storefronts, and arena skyboxes, among many other architectural settings.
The ComfortDrive® system combines a prompt working pace with unparalleled safety. Dynamic opening and closing speeds are up to 30 feet per minute. If the leading edge of a panel should contact any obstacle, forward movement is immediately halted. Safety is always a top priority for Modernfold. So much so that the ComfortDrive® system is UL® 325 certified. This provides peace of mind that the system will be set up correctly and safely anytime by anyone.
In locations where security is crucial, ComfortDrive® technology is equipped with an electromechanical lock to prevent unauthorized operation. In the event of a power failure, the system can be manually unlocked and panels can then be manually moved.
Incorporating the beauty and daylighting benefits of Compactline® glass panels, the ComfortDrive® system delivers a clean, trendy and secure look. As every system is custom built to your specifications, ComfortDrive® now allows for true automation even in the most complex layouts. Automation is no longer limited to simple straight layouts. Complex segmented and curved track layouts are now possible with Modernfold's ComfortDrive® system.
"Modernfold is committed to be the leader and innovator in the movable wall industry," said company President Bryan Welch, "and we've been paying close attention to the Architecture and Design community's request for more automation with movable walls. After extensive research and development, we are proud to introduce ComfortDrive, the industry's first truly automated movable wall system. It is clear that automation is the future of movable walls and ComfortDrive technology will lead the way in bringing that automation to life for a variety of space division needs."
For more on this revolutionary advance in automated space division, visit http://www.modernfold.com.
About Modernfold
For more than 93 years, Modernfold, Inc. has been the premier provider of products that enable optimal space utilization. Whether the primary requirement is acoustical control, versatile space management, energy savings, or daylighting, Modernfold's innovative product solutions assist and facilitate building management. Beginning in 1925, the company helped invent the movable wall industry. Its current product line continues that leadership. In a wide range of installations, outstanding, highly flexible results are provided by Modernfold Operable Partitions, Movable Glass Walls, acoustically rated Acousti-Clear® Glass Wall systems, Acousti-Seal® Encore®, Acousti-Seal® Encore® Automated, Accordion Doors and now ComfortDrive®. Modernfold became part of the dormakaba Group in 2015. dormakaba Group is one of the top three companies in the global market for access and security solutions. With strong brands such as DORMA and Kaba in our portfolio, we are a single source for products, solutions, and services related to doors and secure access to buildings and rooms. With around 16,000 employees and numerous cooperation partners, we are active in over 130 countries. dormakaba Group is headquartered in Rümlang (Zurich/Switzerland) and generates an annual turnover of over CHF 2 billion.