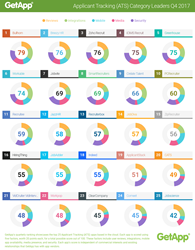 BARCELONA, Spain (PRWEB) October 11, 2017
GetApp, the leading online resource for software as a service (SaaS) products and research, today published GetApp Category Leaders in 37 software categories. The GetApp Category Leaders ranking helps businesses identify the leading software products in a given category, simplifying an overwhelming and time-consuming process.
The October release features GetApp Category Leaders in ten new software categories: Document Management, Enterprise Resource Planning, Event Management, Facility Management, Instant Messaging, Live Chat, Reservation and Online Booking, Point of Sale, Survey, and Time Tracking and Expense. Twenty-seven additional categories were updated including:
Accounts Payable
Applicant Tracking
Business Management
Customer Relationship Management
Email Marketing
Expense Management
Help Desk and Ticketing
Inventory Management
Task Management
GetApp Category Leaders is an objective assessment that calculates an app's score based on five unique factors relevant to small businesses: user reviews, integrations, mobile app availability, media presence, and security. GetApp Category Leaders narrows software categories with hundreds of options to a concise list of the 25 top-scoring products for businesses to consider when exploring new solutions. GetApp Category Leaders is refreshed quarterly and publicly available at getapp.com.
About GetApp: GetApp is the leading marketplace for business app discovery. GetApp's mission is to put insights, trends, user-generated reviews and research at buyers' fingertips to make the process of finding the right software for their business accessible and easy. GetApp is headquartered in Barcelona, Spain.