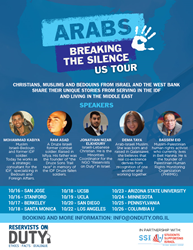 We want to make clear that coexistence isn't just possible—it's been real in Israel for decades. It is time for young Americans to hear our story.
SAN FRANCISCO (PRWEB) October 11, 2017
Reservists on Duty (RoD), a pro-Israel organization founded to combat anti-Semitism on college campuses, will begin their two-week-long 'Arabs Breaking the Silence' tour on Oct. 16, focusing on five speakers with diverse backgrounds from the Arab community in Israel. These speakers, comprised of Christians, Muslims, Druze, Bedouins and Palestinians—including one from the West Bank, will share their experiences living in Israel and serving in the Israel Defense Forces. The speaking tour includes engagements in colleges and communities across the United States in California, Arizona, Minnesota, Pennsylvania and New York, covering 12 locations over some 4,000 miles.
"We are here to tell the truth about Israel: a diverse country with patriotic citizens who are Bedoiun, Druze, Arab, Christian, Muslim, and more. We are proud IDF veterans and Israeli citizens who know firsthand how our country treats minority groups with respect and compassion," said Mohammed Kabiya, a Muslim Israeli-Bedouin IDF veteran. "We want to make clear that coexistence isn't just possible—it's been real in Israel for decades. It is time for young Americans to hear our story."
RoD has been active on American campuses in coordination with Students Supporting Israel (SSI), especially during the Boycott, Divest and Sanction Movement's (BDS) "Apartheid Week," to correct the BDS narrative of Israel. The upcoming tour departs from previous ones that focused on contesting BDS propoganda.
RoD has faced violent threats from BDS supporters at the University of California, Irvine, when Students for Justice Palestine (SJP) disrupted an IDF reservist speaking panel, which SSI hosted, by shouting expletives, leading to the reservists and pro-Israel student exiting the room with security, and university sanctions on SJP.
"This speaking tour is very important because it highlights the real experiences of Israeli Arabs of minority populations in Israel, and provides a forum for them to express their views without censorship or derision from people who base their opinions on propaganda that comes from people who have never lived in Israel," said Jonathan Elkoury, RoD's Minority Coordinator. "I am proud to help Americans—especially those who are not knowledgeable about Israel—to hear from people who are not Israeli Jews. These Israelis have a perspective that is often ignored, and their stories, their energy and their enthusiasm paint a more honest portrait of our country."
RoD's speaking tour includes Stanford, UC Berkeley, UC Santa Barbara, UCLA, Arizona State University, and Columbia University, in partnership with SSI, a grassroots pro-Israel advocacy group and one of the leaders in the movement to counter BDS propaganda on campuses.
"Pro-Israel advocacy isn't just about supporting the continued existence of a Jewish State, but about strengthening a nation that protects the rights of all its citizens—regardless of their religion or ethnicity," SSI founder Ilan Sinelnikov said. "This speaking tour is simply a platform to expose the reality of being an Arab in Israel. These Israelis put a face to some of the many groups of non-Jewish Israelis who thrive in our country, groups that many Americans don't even know about."
The 'Arabs Breaking the Silence' tour begins at San Jose State University and Stanford University on Oct. 16. Contact info(at)onduty(dot)org(dot)il for inquiries about scheduling a booking. Contact info(at)ssimovement(dot)org for inquiries about the campus events.
About Reservists on Duty: Reservists on Duty is a nonpolitical pro-Israel advocacy organization comprised of IDF reservists, IDF veterans and other patriotic Israelis. It was founded in 2015 to combat the new anti-Semitism of BDS and its associated Israel counter-organizations, and to revealing the internal and external damage caused by such organizations.
About Students Supporting Israel: Students Supporting Israel is a rapidly growing, international pro-Israel campus movement that supports the State of Israel. Founded at the University of Minnesota in early 2012, it currently has nearly 50 chapters across the United States and Canada.