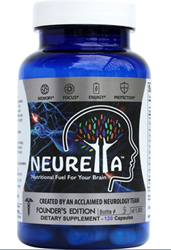 "Nutritional Fuel for your Brain"
New York, NY (PRWEB) October 11, 2017
The brain is a powerhouse of energy and function, which requires the right fuel to support memory, focus, and attention. Neurella™ is a 12-ingredient dietary supplement—anchored by Cognizin® Citicoline—that drives performance for the short- and long-term.
Taken daily, Neurella™ adds rich, abundant, and powerful antioxidants and natural ingredients to nourish the brain and support neural networks. Each capsule contains Cognizin® Citicoline, a branded form of the brain health nutrient citicoline. Cognizin® Citicoline provides vital nutrients that help the brain stimulate electronic impulses, maintain healthy neurons and protect them from free radicals. Blended with ingredients like Huperzine-A, Turmeric Root Extract, and Grape Skin Extract, for many Neurella™ can help:

Fuel and support key brain chemicals or neurotransmitters involved in energy production and communication.
Improve and regulate brain function over the short AND long-term.
Provide ingredients that support brain health.
Protect nerve cells from wear and tear by providing the raw material for repair and healing.
Shield your brain from the inside out, like an internal helmet.
"With 12 of the most powerful ingredients shown to optimize brain health, Neurella provides significant and researched amounts of natural substances, working in synergy to maximize a broad spectrum of brain functions," said, Matt Crawford, CEO Neurella Labs, INC.
For more information, visit http://www.Neurellalabs.com.
About Neurella™
The founders of Neurella™ were brought together by the common goal of treating a loved-one struggling with a brain illness. After a combination of personal experience and an exhaustive search for effective and credible solutions we determined that the market space lacked truly comprehensive, quality, and convenient products aimed at this need. The formulations of Neurella™ offer the public affordable access to products combining premium ingredients, effective doses and a range of convenient ingestibles.
Our formulations are engineered to help unlock the power of nature to improve the quality of life. In addition, after personal experience, knowledge and surveying public forums, it's clear that customers are frustrated by the lack of time and guidance that "professionals" can offer.
Obtaining credible, in-depth and accessible (easy-to-understand) information has become a rarefied commodity. Neurella™ media services platform will meet that pressing need head-on. For more information, visit http://www.Neurellalabs.com.
About Cognizin
Cognizin® Citicoline, manufactured by Kyowa Hakko Bio Co., Ltd., is a clinically studied and patented form of Citicoline, a natural substance found in every cell of the body and especially vital to brain health.* Citicoline is a potent brain-health nutrient. A proprietary form of citicoline, Cognizin® has been clinically studied to support mental energy, focus, attention, and recall. Cognizin is manufactured through a patented fermentation process to yield high quality and high purity. Cognizin is also highly stable, GRAS, ultra-pure and allergen-free. For more information on Cognizin, visit Cognizin.com.
About Kyowa Hakko USA
Kyowa Hakko USA is the North & South American office for Kyowa Hakko Bio Co. Ltd., an international health ingredients manufacturer and world leader in the development, manufacturing, and marketing of pharmaceuticals, nutraceuticals and food products. Kyowa is the maker of branded ingredients including Cognizin® Citicoline, Lumistor® L-Hydroxyproline, Pantesin® Pantethine, Setria® Glutathione, as well as Sustamine® L-Alanyl-L-Glutamine. For more information visit Kyowa-USA.com.
*These statements have not been evaluated by the Food and Drug Administration. This product is not intended to diagnose, treat, cure, or prevent any disease.