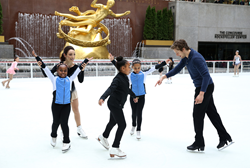 "Opening The Rink here at Rockefeller Center is an incredible honor and privilege. It's such a magical setting, and we encourage everyone to come for a skate," said Meryl Davis and Charlie White.
NEW YORK, NY (PRWEB) October 11, 2017
CLICK HERE FOR HI-RES IMAGES & B-ROLL
The most famous ice rink in the world, The Rink at Rockefeller Center, opened today with an official ceremony kicking off its 81st season. The ceremonial first skate was hosted by reigning Olympic Ice Dance Champions Meryl Davis and Charlie White, alongside young child skaters of Ice Theatre of New York and Figure Skating in Harlem. "Opening The Rink here at Rockefeller Center is an incredible honor and privilege. It's such a magical setting, and we encourage everyone to come for a skate," said Davis and White.
Davis and White are the first in a series of athletes and 2018 Olympic hopefuls scheduled to appear at The Rink in the coming months in anticipation of the PyeongChang Olympic Winter Games in February 2018. More Team USA athletes will be on hand at the rink on Nov. 1, 2017, to celebrate the 100 Day Countdown to the 2018 Games, with a live performance featured on NBC's TODAY. The full calendar of athlete appearances will be posted in the coming weeks, in celebration of all of the winter sports that take place on ice.
As of October 11th The Rink will open daily at 8:30 am through midnight. The Rink season runs through Easter Sunday. First designed as a temporary attraction, The Rink has evolved into one of the city's most legendary landmarks and one of the most visited sites in Manhattan, hosting more than a quarter of a million annual skaters. This season, The Rink will offer a variety of special experiences including Afternoon Tea and Skating, Après Skate, late night Starlight Skate, and classic traditions such as the popular Breakfast with Santa, Radio City Christmas Spectacular, Engagement on Ice and VIP Skate. All packages can be booked in advance and reservations can be made online at therinkatrockcenter.com. General admission to The Rink is available on a first-come, first-serve basis, whenever The Rink is open to the public.
The popular rink-side restaurant, The Sea Grill, welcomes new Executive Chef Andy Bennett this season. Most recently, Bennett served as Executive Chef at Rouge Tomate, the Michelin-starred restaurant with a focus on sustainable, nutritional cuisine. Chef Bennett brings a light, modern touch to The Sea Grill, with fresh new dishes such as Steamed Black Bass with radicchio, quinoa and carrot broth and Salmon Tartare with sunchoke, trout roe caviar, horseradish and dill. Guests at the restaurant can enjoy front-row, floor-to-ceiling views of The Rink and special combined dining and skating packages throughout the season. The Sea Grill is one of New York's finest seafood restaurants, and a quintessential destination for holiday dining from Thanksgiving to Christmas.
The Rink at Rockefeller Center is located on 5th Avenue between 49th and 50th Streets. For more information, visit therinkatrockcenter.com or call 212.332.7654.
The XXIII Olympic Winter Games from PyeongChang, South Korea, will begin on February 8 on the networks of NBCUniversal.
Link to Opening Day photos: http://bit.ly/2xzniX5
Link to historic photos of The Rink: http://bit.ly/rinkpics
 
For media requests, please contact Tanja Yokum at tyokum(at)patinagroup.com or Nyrie McKenzie at nmckenzie(at)alliedim.com
 
About The Rink at Rockefeller Center
The Rink at Rockefeller Center is a national treasure recognized throughout the world. It first opened on December 25, 1936 as the premier artificial outdoor skating pond built in New York City, complete with modern amenities: night skating, a heated house for changing skates, and piped-in music. The bronze gilded statue of the Greek legend Prometheus, sculpted by Paul Manship and set in a flowing fountain, looks over The Rink. The annual Rockefeller Christmas Tree stands on the west side of The Rink, a classic symbol of the holidays. Rink-side dining is a quintessential New York experience, at The Sea Grill and Rock Center Café restaurants.