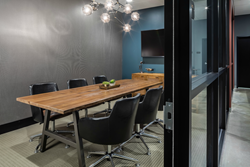 I'm extremely appreciative for our exceptional customers and employees for helping Urban Wood Goods to achieve these two important milestones. We're excited to be a part of FSC's efforts to promote more responsible material sourcing and manufacturing, and to be certified as a Woman Owned Business
(PRWEB) October 17, 2017
Woman owned, reclaimed wood furniture manufacturing business, Urban Wood Goods announces it has been awarded The Forest Stewardship Council® (FSC®) Chain of Custody (COC) Certification (BV-COC-012533EH) with the Wood Products Manufacturers Association (WPMA). FSC standards represent the world's strongest system for guiding forest management and the re-use of recycled materials toward sustainable outcomes. Urban Wood Goods was also recently certified as a Woman Owned Small Business ( WOSB ) and as a Woman Business Enterprise (WBE).
In keeping with a company-wide commitment to the continuous improvement of its environmental performance, Urban Wood Goods is proud that it can now provide FSC Chain of Custody Certification on all of its products. It enables companies to identify and control their sources of FSC-certified and reclaimed/recycled material.
Urban Wood Goods' president, Erin True says, "I'm extremely appreciative for our exceptional customers and employees for helping Urban Wood Goods to achieve these two important milestones. We're excited to be a part of FSC's efforts to promote more responsible material sourcing and manufacturing and to be certified as a Woman Owned Business."
The FSC Chain of Custody System tracks FSC certified material through the production process – from the forest to the consumer or in the case of the label Urban Wood Goods' has recently earned as "certified FSC Recycled 100 %," it involves certifying reclaimed materials are involved in a series of FSC system-based inspections, validations and audits, from its origin to its final destination . FSC certified recycled wood is made up of wood parts that were broken down by machine-processing to make an entirely new product — like you would recycle plastic. FSC certified recycled wood almost always contains post-consumer product. Furniture is a great example of an FSC certified recycled wood products.
Urban Wood Goods' furniture is now available as certified, FSC Recycled 100% designation when specified by the customer. FSC products enable businesses and organizations to earn Leadership in Energy and Environmental Design (LEED) points through the rating system of the United States Green Building Council, for particular projects to minimize their impact on the environment.