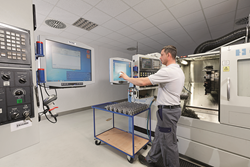 CHARLOTTE, N.C. (PRWEB) November 23, 2017
This unique demonstration environment allows for systematic and logistic questions to be studied in a real-life production setting based on empirical data. In addition to the associated innovations labs (ERP Innovation Lab, Smart Systems Innovation Lab, and Service Science Innovation Lab), approaches and solutions are tested. The entire value chain of a small-scale production, from manufacture to assembly, is reproduced and monitored in real-time. The adaptability of factories will be examined and the evaluation of data will allow for an immediate response to issues in the operations.
noax IPCs function as operator terminals in the DFA Demonstration Factory which provide added value to day-to-day production. noax hardware is the basis for capturing feedback from production, so it can be processed in the ERP systems. They are a necessary requirement for the step-by-step development of the DFA "smart factory". With their high-resolution display, the C21 IPCs are suited to display processes in real-time and with precision which support the DFA Demonstration Factory's goal to test and continue developing intelligent Industry 4.0 technologies in close collaboration with research institutes and other industry partners.