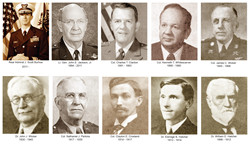 The Academy is seeking a proven leader with a strong background in teaching/learning, as well as a proven commitment to educational excellence.
Fork Union, Virginia (PRWEB) October 11, 2017
Fork Union Military Academy is seeking candidates for the 11th President in its 119-year history. RADM J. Scott Burhoe, USCG (Ret.), the Academy's current President, has announced plans for his retirement, effective July 1, 2018.
The Academy is seeking a proven leader with a strong background in teaching/learning, as well as a proven commitment to educational excellence. Candidates must have an appreciation for the value of athletics/physical fitness in the total development of young men, and a passion for the role military structure plays to instill school pride and discipline. Candidates should show evidence of a sincere commitment to the development of respect, integrity, faith, character, and discipline in young men.
About Fork Union Military Academy
Fork Union Military Academy is the largest all-male, college-prep, Christian, military boarding (and day) school in the country, and offers an exemplary private education to over 400 cadets in grades 7 through 12, as well as postgraduate study.
Founded in 1898, the Academy recognizes the importance of educating the entire young man-body, mind, and spirit. The Academy is situated on a beautiful 1,200-acre campus in Fork Union, Virginia. The Academy attracts a diverse Corps of Cadets from over 30 states and 19 countries.
Fork Union Military Academy has long been recognized as a leader and innovator among independent educational institutions. Since 1950, the Upper School has been using the One Subject Plan, which continues to revolutionize the high school academic program. In addition, the Academy boasts an Early College Scholars program, which enables select young men to complete an associate's degree during their junior and senior years at the Academy. The Middle School, while sharing a wing in the dormitory, is designed to meet the specific needs of 7th and 8th graders. The Academy also serves the needs of academic and athletic postgraduates.
Candidate Qualifications
All applicants must possess the following qualities:

Strong Christian faith
High standards of personal character; exemplifying ethical and moral responsibility
Extraordinary leadership abilities, including the talent to build relationships and partnerships across various constituencies, including but not limited to alumni, parents, donors, and friends of the Academy
Exceptional communication skills, including writing, speaking, and listening
Strong financial background, including an understanding of budgeting, cash flow, net tuition revenue, and endowment management
Ability to work closely with faculty and staff in a family-oriented campus environment
Capability to attract and retain talented and committed faculty, staff, administrators, as well as all support element personnel
Personal commitment to the Academy's public and constituent relationships
Familiarity with overall demographic trends and private school enrollment trends and practices
Ability to understand and contextualize marketing and branding decisions across the organization, internally and externally
Desire and ability to lead the Academy in the realization of stated developmental/fundraising goals as articulated in the Called to Lead Campaign
Ability to oversee and/or manage all phase (e.g., planning, construction, etc.) of building projects (such as conceived in the Called to Lead Campaign)
Appreciation for the value tradition plays, while recognizing the necessity for the transformation required in meeting the needs of education in the 21st Century
Willingness to reside in Careby Hall, the President's campus residence
To Apply
By December 1, 2017, interested candidates should submit their cover letter, resume, a one page statement describing how their gifts and capabilities blend with Fork Union Military Academy's Educational Philosophy, and the names and addresses of three references,
Submissions should be directed to:
PresidentSearch(at)fuma(dot)org or
Chairman, President Search Committee
Fork Union Military Academy
PO Box 278
Fork Union, VA 23055
Application deadline is December 1, 2017.
Fork Union Military Academy is fully-accredited by VAIS (and VCPE), and is a member of NAIS and AMCSUS. Fork Union Military Academy is non-discriminatory in regards to race, creed, color, or national origin.