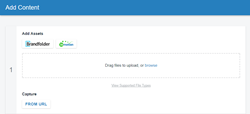 Research Triangle Park, NC (PRWEB) October 12, 2017
inMotionNow, a leading provider of workflow management solutions for marketing and creative teams, today announced a new integration to the digital asset management (DAM) tool Brandfolder. The company is also releasing new enhancements to an existing integration with Google Drive. These integrations link the creative process to storage and asset management, which streamlines workflow and reduces clicks – while keeping creative assets well organized.
"The volume and intensity of creative marketing work being performed in larger organizations is incredible. It's not unusual for a company with a dozen marketing campaigns to have hundreds of assets being created, while a company with a hundred campaigns may have thousands of assets," said inMotionNow Chief Technology Officer Chris Trauzzi. "In this context, it's easy to see why managing all these creative assets, from request to availability, is absolutely essential for those marketing organizations that aim to be more efficient and effective."
Enterprise marketers and designers use creative workflow solutions like inMotion to add speed, transparency, and accountability, to the creative process, from project request – to review and approval. Similarly, these shops also use a centralized storage solution or DAM to keep these assets easily available for use by sales, marketing and other stakeholders. The challenge inMotionNow has solved is weaving these two systems together and eliminating the margin of error in moving assets between marketing technology silos.
Previously, moving assets into, or out of, the review process required project managers to download the asset from one platform – often onto a workstation or hard drive – and then upload it to other. These integrations mean project managers can open folders and files from these other platforms from directly within the inMotion console.
For Google Drive, a previously required file conversion step has been eliminated with this software release. After downloading an asset – Docs, Sheets, Slides, Drawings – a project manager also had to convert the file format before uploading it to the inMotion platform. For example, a Google Slide presentation needed to be converted to the Microsoft® PowerPoint® format. The new enhancements mean inMotion completes the conversion once the user selects the file type that should be used.
These three new integrations add to several existing DAM integrations inMotionNow has already developed with commensurate capabilities. These include DAM products commonly used by marketing departments and in-house creative teams such as Box, Dropbox, ShareFile, Canto Cumulus, Canto Flight, inRiver, Egnyte, Webdam and Widen.
"Internally we refer to this as 'saving user events,'" added Trauzzi. "This means we are continuously looking for ways to automate or reduce the number clicks, steps or actions required of users – so teams can focus on getting business results rather than manage the process."
More than ever, marketers are under pressure to produce more and more content without sacrificing quality. The polish and professionalism creatives breathe into marketing assets is proven to increase the effectiveness of campaigns – but this requires marketing and creative to work more efficiently together.
The inMotion platform provides a vehicle to improve collaboration between marketing and creative, which in turn enables the business to get more revenue-generating campaigns into the market faster. The company is dedicated to continuously improving its product as evidenced by this announcement. It also comes on the heels of a string of enhancements so far this year including a first-of-a-kind email review feature and an all-new online proofing and approval tool.
# # #
About inMotionNow, Inc.
inMotionNow is a leading provider of workflow management solutions for marketing and creative teams, facilitating efficiency and productivity from project kickoff to final approval. inMotion, the company's flagship SaaS product, simplifies every phase of the creative production process, delivering measurable value to enterprise clients like DuPont, the LA Dodgers, NASDAQ, and Pep Boys. The application allows project stakeholders to manage, track, and collaboratively review their print, video, and interactive projects in a centralized online environment. With a user-friendly interface and dedicated customer success team, inMotionNow helps creative and marketing teams of every variety automate their workflow and do the work they love.