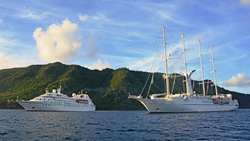 The award-winning boutique cruise line doubled its fleet of small ships in recent years and offers more than 300 cruises annually on ships that accommodate between 148 and 310 guests.
SEATTLE (PRWEB) October 11, 2017
Windstar Cruises announces recent appointments to the leadership team for the award-winning small ship cruise line with high-performing employees tapped for promotions and added responsibilities to key operations and marketing roles.
Kristin Badgett has been promoted to Vice President of Revenue Management and Itinerary Planning reporting directly to President John Delaney. Badgett, who has been instrumental in leading the small ship line to record growth, oversees a team of eight in a variety of key commercial functions encompassing revenue management, budgeting and forecasting, pricing strategy, inventory control, advanced analytics and diagnostics, deployment development, itinerary planning, and cross-departmental planning and project implementation. Badgett joined Windstar in 2008 having taken on roles of growing responsibility in the revenue and deployment arena as a Senior Financial Analyst, and Director of Revenue and Inventory Management. Badgett previously worked in the cruise industry at Cruise West and Holland America Line and holds a B.A. in Accounting from Portland State University. Badgett lives in the Seattle area and enjoys traveling and relaxing in her leisure time.
Victor Hernandez was recently promoted to Director of Digital Marketing and CRM. Hernandez joined Windstar in September of 2015 and has progressively taken on increasing responsibility for various online advertising channels as well as leadership for email development and performance. Hernandez has been instrumental in improving all digital marketing performance metrics while reducing acquisitions costs, improving efficiency and expanding digital reach. As Director, Hernandez plans and directs all aspect of Windstar's digital marketing presence. Hernandez oversees all SEM, SEO, tag management and analytics platforms, email, CRM and web properties. Prior to joining Windstar, he oversaw the Americas paid search program for Getty Images. Outside of work Hernandez enjoys traveling and spending time with friends.
The award-winning boutique cruise line doubled its fleet of small ships in recent years adding three all-suite power yachts to complement three sailing yachts and increasing capacity to 1,242 lower berths. The small ship leader offers more than 300 cruises annually and each ship accommodates between 148 and 310 guests.
In 2017, the boutique line increased cruises launching the popular Star Collectors Voyage program that offers longer back-to-back sailings to every destination including Europe, Transatlantic Ocean Crossings, Tahiti and the Tuamotu Islands, the Caribbean, Costa Rica and the Panama Canal. The small ship leader has dramatically expanded deployment for the year ahead announcing nearly 150 new ports of call in 2018 with the additions of new global cruising destinations including Asia featuring calls to Vietnam, Thailand, Borneo, the Philippines, Japan and China in the spring; a return to Alaska and British Columbia in summer 2018 after decades hiatus; and first-time-ever small ships cruise offerings to Canada and New England; as well as expanded deployments in Europe and the Caribbean.
The company's corporate offices are experiencing corresponding growth adding new executive and staff positions to support sales, marketing, finance, and operations and expanding downtown Seattle headquarters, which now employs approximately 140 travel professionals in the Pacific Northwest region and approximately 1,500 fleet employees worldwide.
To learn more about Windstar Cruises, visit http://www.windstarcruises.com.