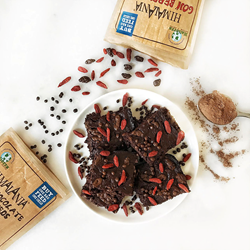 Photo Credit: Bianca Klotsman @holisticrx
Los Angeles, California (PRWEB) October 12, 2017
Natierra fuses the spirit of adventure and the celebration of health and community to bring conscious consumers unique superfoods, gourmet salts and on-the-go snacks. Its Feed a Soul Project reinforces the brand's mission to foster social progress and sustainable business practices throughout the world. It includes the Buy One Bag, Feed One Child Initiative, one of many ways American consumers can participate in World Food Day.
World Food Day, which commemorates the founding of the United Nations' Food & Agriculture Organization, is celebrated by more than 150 countries around the globe to promote worldwide awareness and action for those who suffer from hunger and for the need to ensure food security and nutritious diets for all. Natierra challenges American shoppers to use their spending power to benefit the 800 million people around the word who don't have enough food.
"Our Buy One Bag, Feed One Child initiative has already donated 315 thousand meals to children in Haiti, where 100,000 children under five suffer from acute malnutrition," said Thierry Ollivier, founder of Natierra. "We're honored to play a part in moving towards #ZeroHunger, and hope to inspire many more to shop in ways that help those in need."
Facts about Hunger, World Food Day and #ZeroHunger*
1.The world produces enough food to feed everyone, yet, about 800 million people suffer from hunger. That is one in nine people. 60% of them are women.
2. About 80% of the world's extreme poor live in rural areas. Most of them depend on agriculture.
3. Hunger kills more people every year than malaria, tuberculosis and AIDS combined.
4. Around 45% of infant deaths are related to malnutrition.
5. The annual cost of malnutrition to the global economy is the equivalent of $3.5 trillion.
6. Reaching #ZeroHunger is possible:

Out of the 129 countries monitored by FAO (Food and Agriculture Organization of the United Nations), 72 have already achieved the target of halving the proportion of people who suffer from hunger by 2015
Over the past 20 years, the likelihood of a child dying before age five has been nearly cut in half, with about 17,000 children saved every day
Extreme poverty rates have been cut in half since 1990.
After many years working to source organic and fair-trade mangos from Haiti, Ollivier learned that some Haitian women and children were suffering extreme stomach discomfort from eating mud cookies with the intent to trick their bodies into feeling full. Seeing this firsthand in the field, Thierry realized he had missed something very important and that the Company's work to source product from and create jobs for Haitian people wasn't enough. At that moment, he started to work on a partnership with the nonprofit Convoy of Hope, to give a meal to a Haitian child in need for every purchase from Natierra's line of Superfoods products.
"The 2010 earthquake only exacerbated the extreme conditions under which Haitians live day-to-day. In the direct aftermath of hurricanes that have devastated the Caribbean, Puerto Rico, Florida and Texas, and the Mexican earthquakes, we're all the more aware of how close to the brink so many of our fellow humans live," continued Ollivier. "Whether supporting our goal to provide a million meals to children in need by 2018, or finding other ways to stretch your buying power to include those in need, please observe World Food Day today."
The featured Natierra products deliver essential nutrition to consumers, provide meals to Haitian children through the Feed a Soul program and, are key ingredients for all sorts of recipes and snacks:

packable lunch snacks for kids
super-powered smoothie add-ons for daily boosts
chia puddings jam-packed with nutrients, rich in flavor and health benefits
insta-worthy avo toast and acai bowls
They can be purchased from major grocers such as Whole Foods Market, and directly on Amazon.
About Natierra:
Natierra is a mission-driven company that offers unique superfoods, gourmet salts, and freeze-dried fruits and veggies to conscious consumers nationwide. At the forefront of the healthy food movement, Natierra introduced the US to Himalayan Pink Salt in 2002 and Goji Berries in 2006. Most recently, Natierra launched its revolutionary superfood snack Chia Crunch, combining nutrient-dense chia seeds and fruits with a unique freeze-drying method. A Fair For Life certified company, Natierra is committed to foster social progress and sustainable business through Organic and Fair Trade practices.
To learn more about Natierra, the products, and the give back mission, please visit http://www.buyonefeedone.org or follow us on Instagram: @natierrasuperfoods; Facebook: http://www.facebook.com/Natierra.
*From FAO.org, the official site of the Food and Agriculture Organization of the United Nations
http://www.fao.org/world-food-day/2017/about/en/