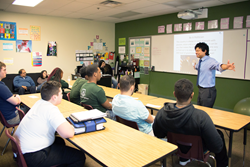 From a policy perspective, our state's leaders have been blind to the fact that there are differences in how we educate groups of children across the state, and that practice must end.
Ann Arbor, MI (PRWEB) October 12, 2017
Putting learning first, eliminating the state's overreliance on standardized testing, treating educators with respect, and boosting the state's investment in education are the centerpieces for Democratic Gubernatorial Candidate Shri Thanedar's comprehensive plan to improve Michigan's schools.
"The key to our state's continued growth is putting education first in terms of our funding priorities," Thanedar said. "We must put control of the classroom back in the hands of professional educators. Lansing must play a supporting role in funding our education system, but it must do a far better job in listening and responding to communities, parents, and educators alike. Playing politics with our schools by special interests must end. Public education must be transformed into a service where citizens first value teaching, learning, and children."
Thanedar believes education is a fundamental right and that belief is accompanied by important obligations. Some of Shri's ideas for education include:

Boost Michigan's investment in K-12 education, especially for districts with higher percentages of at-risk students, allocating resources by the way students learn, not just by where they are.
Cut state administered M-STEP testing, switching to a three times per year NWEA administered assessment system that measures growth, not achievement, which focuses teaching more on student learning and less on standardized test preparation.
Pay educators as professionals while treating them with respect: 1) Streamline professional development and licensing requirements; 2) Ensuring teachers do not pay for classroom supplies out of their own pockets; 3) Create a statewide marketing effort – similar to Pure Michigan – to attract, recruit, and retain educators statewide, with a specific emphasis on urban and rural areas and incentivizing entrance into the profession with ideas including college loan forgiveness and credits for volunteerism; 4) Establish a real-time study on teacher wages to ensure educators are paid accordingly and in line with similar states.
Invest $500 million of new revenue into career and technical education and job training programs – community colleges and intermediate school districts (ISDs) would serve as conduits for these resources.
Implement universal Pre-K programming statewide through the state's ISDs.
Hold traditional public and charter schools to the same high academic and operational standards.
Accelerated college debt forgiveness if after graduation, they stay and work in Michigan, at a level equal to their state tax bill.
Super accelerated debt forgiveness if they start a business in Michigan and create jobs.
Bring trade and career technical education in middle school and high school so that not everyone has to go to four year college.
Ban for-profit charter school operators statewide. While choice will still be an option, charter schools will play by the same rules as traditional public schools.
Institute free 4-year college for families below the $120,000 annual income threshold by working with colleges and universities on fiscal challenges.
Establish year-round school options statewide, eliminating long gaps in the school year where no instruction occurs. In Michigan, students spend a required 180 days in classroom, while in places like Japan and Europe, that number is closer to 250. By increasing the number of days students are in the classroom, curriculums grow more in-depth and students perform better on standardized tests and more importantly are prepared for the next step in their educational journey, whether it be college or vocational programming.
Protect and preserve the state's teacher pension system to ensure it is stable for retired and retiring educators while addressing legacy costs. Shri Thanedar believes Michigan must uphold its promise to its educators by keeping their pensions intact.
Thanedar wants to pay for these priorities by redirecting resources in the state's budget, closing corporate loopholes, and implementing a progressive tax structure that ensures Michigan makes education its No. 1 priority.
"From a policy perspective, our state's leaders have been blind to the fact that there are differences in how we educate groups of children across the state, and that practice must end," Thanedar said. "I recognize this battery of new programs is not without substantial costs, but we must prioritize these changes right alongside our state's infrastructure needs if we truly want Michigan to become a leader again.
For more information about Shri's plans for Michigan, visit http://www.Shri2018.com.