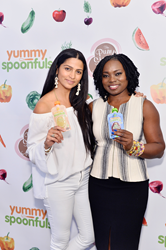 "Kids need the best food, from the very first spoonful. Delicious, made-from-scratch food, bursting with yummy flavor, vibrant color and nutrition, free from harmful additives and preservatives – all parents want the best for their babies." Agatha Achindu, Founder, Yummy Spoonfuls
Santa Monica, CA (PRWEB) October 12, 2017
Yummy Spoonfuls, the fresh-frozen, just like homemade organic food brand for baby and toddler, announced the LoveUnprocessed program today, reinforcing its commitment to provide families with the cleanest, most delicious and nutrient-dense foods possible.
Rooted in the global worldview and passion for healthful eating shared by entrepreneurs Agatha Achindu and Camila Alves McConaughey, the program will consist of educational events, an expert-led advice series, and a community rallying cry around giving all children access to fresh, unadulterated and nutritious foods. LoveUnprocessed kicks off with a First Foods 101 class hosted by The Pump Station in Santa Monica, where Camila and Agatha share their experiences with feeding their own children, and discuss the 'Yummy' approach to developing the budding palate. Backed up by the brand's mission to use only whole, organic ingredients with no additives, purees, concentrates or sweeteners, and freezing the products rather than using preservatives, LoveUnprocessed stands for food the way it should, and can be. Additional classes in the series will address issues that parents face when making choices on food and nutrition, as their children grow.
"Homemade food is a birthright, not a privilege," said Yummy Spoonfuls founder Agatha Achindu. "Kids need the best food, from the very first spoonful. Delicious, made-from-scratch food, bursting with yummy flavor, vibrant color and nutrition, free from harmful additives and preservatives – all parents want the best for their babies. Parents are busy though, and there isn't always time to cook from scratch. Love Unprocessed means life isn't perfect - but with a little help, all parents can give their kids healthy homemade food."
"As a mother of 3 little ones, I realized just how many additives and preservatives can go into 'organic,' shelf-stable, over processed baby foods - things you would never think of feeding your child - and I had a mission to change that," said Co-Owner and Chief Brand Director Camila Alves McConaughey. "Yummy does things differently, and we feel that every parent should know what exactly is in store-bought baby food – and what to avoid if at all possible."
Parents can visit YummySpoonfuls.com/LoveUnprocessed to learn more about Yummy's whole food focused approach to giving babies and toddlers the best start to a lifetime of healthy eating, one spoonful at a time. The LoveUnprocessed website will host exclusive content and be the home for the Healthy Firsts council of Registered Dietitians sharing actionable, real-world advice on how to introduce foods and establish healthy eating habits throughout the first formative years. The site will also serve as the hub for Yummy's social community, where parents can share their own #LoveUnprocessed moments.
About Yummy Spoonfuls:
Yummy Spoonfuls® is frozen baby and toddler food made from selectively sourced organic meats, whole grains and naturally ripened produce and legumes – with no preservatives, additives or fillers. Yummy Spoonfuls' founder Agatha Achindu and Camila Alves McConaughey, Co-owner & Chief Brand Director, joined forces to change the way kids eat from their very first spoonful and create a simpler way to provide delicious, just-like-homemade food for babies and tots. Yummy Spoonfuls gently cooks its recipes with care and immediately flash freezes after cooking to ensure vital nutrients are kept intact and flavors remain vibrant. All Yummy food is packaged in BPA-free, microwave and oven safe, easy-to-use pouches and containers. Yummy Spoonfuls is available in Target's frozen aisle. For more info, visit http://www.yummyspoonfuls.com.