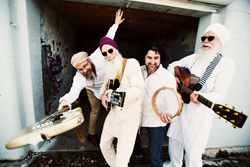 "While there is no one solution to heal the world, or to understand what happened in Las Vegas or anywhere else where tragedy has struck, as a band, we feel that this is our way that we can get involved, one song, one person, at a time." - GuruGanesha
Herndon, VA (PRWEB) October 12, 2017
In response to the recent horrific violence in Las Vegas, and the uncertainty and devastation wrought by natural disasters, political unrest, and acts of violence, mantra-based rock group GuruGanesha Band is compelled to help create a positive, community-building action. In the wake of tragedy, we see time again people come together in love as a way to support and uplift.
The band is inviting people across the country and the world to participate in creating the new video for the title track of their upcoming album, People of Love. By encouraging people to engage in their own personal practice whether it be meditation, yoga, kirtan, mantra, and sharing their expression of that practice, the band intends to increase the field of love and create a heart space that makes violence seem almost impossible.
"In doing your sadhana, or practice, you create a field of love inside of your soul and thus become a true person of love," said bandleader GuruGanesha. "While there is no one solution to heal the world, or to understand what happened in Las Vegas or anywhere else where tragedy has struck, as a band, we feel that this is our way that we can get involved, one song, one person, at a time."
The band chose to crowd-source the video as an affirmation on the power of creation and intention. They are asking the community to shoot a video, either inspired by the song or directly in sync with the music and words. Listen to the song and read the lyrics to get a deeper understanding of what being a person of love means to you. GuruGanesha Band will then combine the submissions into a tribute to share with the world and help encourage more openness and love.
The song lyrics, as inspired by Yogi Bhajan:
We are the People, the People of Love, let us People love today
Come on my Brothers smile on your Sisters, let us People love today
Come on my Sisters smile on your Brothers, let us People love today
Come on everybody smile on the Children, let us people love today
Come on everybody smile on each other, let us People love today
Sat Nam Wahe Guru
To listen to the song, read the lyrics and find full instructions on how to participate in the project, please visit http://guruganeshaband.com/peopleoflovevideo. Submission deadline is October 23.
About GuruGanesha Band:
Known for conscious, mantra based rock and joyful and uplifting live shows, GuruGanesha Band will release their new album, "People of Love" this October. The album explores some of the complex themes and issues of today's challenging and changing world that we are living in. The songs are a tapestry that combine a unique contemporary rock groove with uplifting mantras that are sure to inspire and rejuvenate anyone who listens.
The GuruGanesha Band effortlessly spans a multitude of musical styles, from deeply meditative musical compositions that unfold like lotus petals, to the spellbinding fusion of Indian raga and Western jazz, to full-on bhakti infused rock. The band expresses a universal musical language that transcends boundaries, cultures, and generations.
More info: http://www.guruganeshaband.com