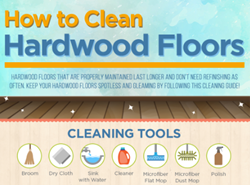 Hardwood floors are easy to maintain if a daily, weekly and monthly cleaning regimen is used.
RIVERSIDE, Calif. (PRWEB) October 19, 2017
Hardwood floors have long been the hallmark of a fine home or upscale commercial space, but many people think that the maintenance needs of real hardwood floors are simply too much to handle.
Thoughts of constantly sweeping, washing, polishing and even periodically sanding hardwood floors have many individuals turning to laminate, tile or even carpet. But hardwood floors are actually among the more durable flooring choices on the market today, and keeping hardwood floors clean and protected is easier than you might think.
Renowned residential and commercial cleaning supplies outfit Microfiber Wholesale has released an exciting new infographic that promises to dispel the myths behind hardwood floor cleaning and care.
Key insights from this infographic cover the full spectrum of hardwood floor maintenance and upkeep. First, hardwood floors don't require specialized tools for proper maintenance, but you'll want to have basics on hand - like a soft bristle broom, microfiber flat mop and a couple other implements.
The infographic also discusses appropriate cleaning intervals - as well as the proper order of cleaning activities. For example, moving furniture out of the way first might seem like a pain, but it makes cleaning much quicker and easier and more effective.
Always remove dirt and any debris from the hardwood floors before wet mopping to minimize the chances of scratching the floor. Daily, weekly and monthly care considerations are covered in the new infographic, as well as methods for removing stubborn yet common stains that might otherwise damage the floors if left untreated.
Finally, a good refinish every 3-5 years will keep your floors looking new for years to come. Hardwood floors are easy to maintain if a daily, weekly and monthly cleaning regimen is used.
About Microfiber Wholesale
Professional quality, affordably-priced cleaning supplies - including residential, commercial, automotive and even lens/optical applications, are the hallmark of Microfiber Wholesale. The company was founded in 1946 in Los Angeles, California, and sold mops, brushes, brooms and other cleaning implements to janitorial supply and hardware stores in the area. Over the next 50 years, the company grew considerably in size and began offering microfiber cleaning products in the early 2000's. Since then, they've grown their line to include more than 200 microfiber cleaning products that make cleaning easier and more effective for contractors, hotel housekeepers, home cleaning services, institutional facility maintenance departments, and others involved in general cleaning and maintenance activities.
Microfiber Wholesale now operates out of a sprawling warehouse in Riverside, California and ships products across the nation. This is a third-generation, family-owned and operated business that has created a remarkable reputation over the past 70 years in operation.