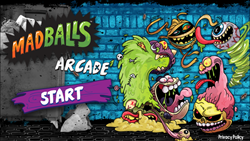 The only app that gives away real prizes for free!
LOS ANGELES (PRWEB) October 25, 2017
American Greetings Entertainment, the intellectual property and outbound licensing division of American Greetings, in collaboration with Think University, introduces Madballs™ Arcade, a new gaming app featuring Madballs characters in a variety of arcade-like games such as 'Toilet Blaster,' 'Slip n' Slime' and 'Dust Brain Bounce.' Madballs Arcade introduces a unique gaming model integrating real prizes for players.
In Madballs Arcade, kids have the opportunity to win Madballs blind bags, wall graphics, stickers, magnets and lenticular postcards by playing the game. Prizes and shipping are free of charge, and many of the prizes are limited quantity items only available via the app, encouraging collectors to play in order to obtain the rare items.
"Madballs Arcade has been an exciting project and the real rewards kids receive for playing is a new and unique model in the gaming industry," said Sheila Mitham, CEO, ThinkU. "Real Madballs products are awarded as prizes which is a boost for the brand and an incentive to keep kids playing. We don't know of any other kids' game that ships real prizes for free."
"Madballs is a heritage brand with a lot of life oozing from the characters and their personalities," said Megan Buettner, Head of Creative and Digital for American Greetings Entertainment. "We're thrilled to bring gross back and straight to the door of those who will appreciate them the most - the kids."
Madballs Arcade is free to play and is built around the crazy, funny, goofy and gross world of Madballs. Real prizes, awarded and shipped for free, are fulfilled every day. With three ways to win and early promotional prizes to be given away just for completing onboarding, children have multiple opportunities to win.
Madballs Arcade complies with the Children's Online Privacy Protection Act (COPPA) and is available for iOS and Android.
About Madballs
Originally introduced in 1986 by AmToy, a subsidiary of American Greetings, Madballs was an instant hit and quickly expanded into other product categories including comics, home video and video games. Today, more than 90 characters exist for Madballs with names like Bash Brain, Slobulus and Zit Wit--they'll crack you up and gross you out. Madballs can be found at http://www.madballs.com, http://www.instagram.com/madballsx and http://www.facebook.com/madballs.
About American Greetings Entertainment
American Greetings Entertainment (AGE) is the intellectual property and outbound licensing division of American Greetings, which was built upon the successful re-launch of Care Bears™ and other iconic kids' entertainment brands, including Holly Hobbie™ and Madballs™, as well as new properties Packages from Planet X™, Twisted Whiskers™ and Buddy Thunderstruck™. AG develops multi-platform entertainment franchises across all media channels, and extensive consumer merchandising programs that immerse children and adults in brands they love. For more information on AGE, visit http://www.americangreetingsentertainment.com.
About ThinkU
ThinkU designs and develops exciting games for successful brands combining real products as rewards for gameplay. Partnering specifically with brands that offer real products, ThinkU's games are designed to put those products directly into the hands of a massive gaming audience. This model increases revenue and lifetime value for the brand, adds life to the products and gives gamers something they have never experienced, real prizes by playing apps and games.