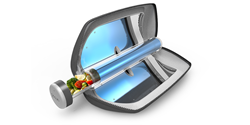 We are thankful CTA is showcasing innovative consumer products. Our goal is to transform the way people cook, without using wood or fossil fuels, and without creating smoke or emissions."
SAN FRANCISCO (PRWEB) October 17, 2017
GoSun Inc., a Cincinnati based Start-Up, announced today that it was selected as the Consumer Technology Association's 2017 Small Business of the Year.
The award was announced Wednesday during the Innovation Entrepreneur Awards ceremony at the Intercontinental Hotel in San Francisco, CA, as part of CTA's Innovate / Celebrate conference. See: https://www.cta.tech/News/Press-Releases/2017/October/Tom-DeVesto,-GoSun-and-Aira-Honored-with-CTA-s-20.aspx Gary Shapiro, President and CEO of CTA, presented the award to Patrick Sherwin, CEO of GoSun.
"We are thankful CTA's is showcasing innovative consumer products. Our goal is to transform the way people cook, without using wood or fossil fuels, and without creating smoke or emissions," said Patrick Sherwin, GoSun Founder and CEO. Sherwin's remarks continued, "earlier this week an executive from Intel on this stage stated that Data is the New Oil, but in my humble opinion, Solar is the New Oil."
GoSun is committed to making breakthrough solar devices to fuel and power cleaner living here in the U.S. and around the world. GoSun's products, are designed to change the way we cook, and provide power, utilizing clean energy from the sun to promote sustainability and healthy cooking. In a closing statement, Sherwin said, "Hurricanes, floods and fires all tell us that we need to move to a Solar Economy."
GoSun also announced, that it has just launched its newest and most affordable solar cooking device on Kickstarter. The new GoSun Go is currently being offered on Kickstarter for $99. The details can be found here: https://www.kickstarter.com/projects/707808908/gosun-go-boil-water-cook-meals-go-anywhere
GoSun also participated in the tech.co, 2017 Start-Up of the Year competition. Out of over 1,000 applications, 100 were selected to pitch at Innovate/Celebrate and of those, GoSun was selected as one of the Top 5 Finalists to then pitch on the main stage in front of the entire audience.
The GoSun solar stoves incorporate a proprietary vacuum tube technology that allows for fast cooking, portability, simple operation, safe and clean cooking. In addition, the vacuum tube also doubles as an insulator, keeping the food hot even with clouds, or in the freezing cold. GoSun's cookers are available at http://www.GoSunStove.com at prices ranging from $279 to $799 - and on Kickstarter now for $99.
About GoSun
GoSun is an innovative manufacturer of solar cookers that can heat up to 550F° and cook a meal in as little as 20 minutes using only the Sun. What started as a simple inspiration has grown into the leading brand in solar cooking, and solar consumer products. Visit http://www.GoSunStove.com or call 888-868-6154 for more information.
About Consumer Technology Association
Consumer Technology Association (CTA) is the trade association representing the $321 billion U.S. consumer technology industry, which supports more than 15 million U.S. jobs. More than 2,200 companies - 80 percent are small businesses and startups; others are among the world's best known brands - enjoy the benefits of CTA membership including policy advocacy, market research, technical education, industry promotion, standards development and the fostering of business and strategic relationships. CTA also owns and produces CES® - the world's gathering place for all who thrive on the business of consumer technologies. Profits from CES are reinvested into CTA's industry services.