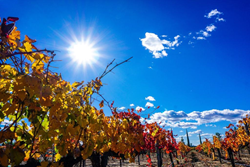 Temecula Valley, CA (PRWEB) October 17, 2017
This Thanksgiving, gather your closest friends together to celebrate the abundant harvest with a Thanksgiving getaway in Temecula Valley, Southern California's Wine Country. Located just 60 minutes from San Diego and Orange County, and only 90 minutes from Los Angeles. Temecula is a world away from it all, featuring amazing fall colors changing on the vines and beautiful weather, rolling vineyards and open spaces, fabulous dining, and plenty of outdoor activities and adventures for the whole group of friends and family.
Thanksgiving Meals in Temecula Valley
Wineries throughout Temecula Valley will be offering Thanksgiving Day meals perfect for friends gathering together. At Ponte Winery, visitors can enjoy Thanksgiving at Bouquet Restaurant with their elegant autumn feast, including traditional favorites and delectable desserts. The award-winning Vineyard Rose Restaurant at South Coast Winery will host a Thanksgiving meal orchestrated by Executive Chef Loren Lawe, who specializes in fine-dining with a farm-to-table approach.
Pechanga Resort & Casino will feature Thanksgiving Day dining specials at all nine of their onsite restaurants. For an even easier Thanksgiving meal while traveling, visitors can purchase the resort's Thanksgiving To-Go package that feeds 6 people for $165 or 12 people for $265. Guests can drive up to the hotel valet to pick up their hot meal ready to serve.
Many restaurants throughout Temecula Valley will also be open on Thanksgiving Day for delicious feasts. The Gambling Cowboy Chophouse & Saloon, located in Old Town Temecula, will feature a special Thanksgiving Day-inspired meal alongside expansive views of the region on their third floor deck. Reservations are required. The Temecula artisanal favorite E.A.T. Marketplace will feature hot and ready to serve to-go options for all diners, including those on gluten-free, paleo, vegetarian, and traditional diets.
Thanksgiving Activities & Outdoor Adventures
In addition to great dining, friends can partake in a feast of entertainment and activity options while staying in Temecula Valley. The more than 40 wineries of Temecula Valley offer their bountiful harvest to visiting guests ready to sip and savor the fruit of the vine, an absolute must for any friendsgiving. Tasting packages and transportation options keep everyone in on the fun. Artisan shopping experiences throughout Temecula are perfect for Black Friday shoppers seeking the best deals and unique gifts and treasures. Shopping hubs include Old Town Temecula, where guests can pick up hard-to-find gifts, Wine Country, with gifts for the wine connoisseur, and numerous malls and specialty stores with the biggest name-brands in the nation.
Groups of friends can bond over shared outdoor adventures in Temecula including riding in a hot air balloon over the rolling hills, horseback riding in wine country, hiking the trails at the Santa Rosa Plateau, or playing a round (or two) of golf on the links throughout the valley.
About Visit Temecula Valley
With natural gifts of climate and geography Temecula Valley Southern California Wine Country is recognized for scenic vineyards, award-winning wines, and 40+ wineries. The popular, boutique destination includes the Temecula Valley A.V.A. (American Viticulture Area) as well as Historic Downtown Old Town Temecula, Pechanga Resort & Casino, and Temecula Wine Country Golf Trail.
Visit Temecula Valley is the region's official tourism marketing organization and an online resource for visitors at VisitTemeculaValley.com. Temecula Valley Visitors Center is located in Old Town Temecula (Third Street and Mercedes). For visitor information and assistance, call (888) 363-2852 or (951) 491-6085.