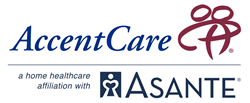 (PRWEB) October 12, 2017
Asante, a nationally recognized health system in southern Oregon, and AccentCare, a leader in post-acute health care, have expanded their existing home health joint venture through an agreement, effective October 1, 2017, to create AccentCare Asante Home Health.
AccentCare has been operating a joint venture home health company with Asante, delivering clinically integrated care, for the past eight years. This newly expanded relationship folds in Asante's Ashland Home Health and creates a preferred provider partnership with AccentCare that spans all of Asante's service area.
"We are excited about our expanded relationship with Asante," said Steve Rodgers, CEO of AccentCare. "Asante has earned widespread recognition for patient care and shares our commitment to quality, compassionate healthcare in the home."
Overall, this partnership will benefit patients through care innovation and enhanced care coordination between acute and post-acute home care.
"Our growing partnership with AccentCare will offer our patients improved access to a broader range of home health services, including specialty programs and telemonitoring," said Scott Kelly, Asante's Executive Vice President. "The expanded array of services will provide continuity as our patients transition from the hospital to other modes of treatment."
###
About Asante
Widely recognized for quality, patient care and dedicated leadership, Asante is based in Medford, Oregon, and provides comprehensive medical care to more than 580,000 people throughout southern Oregon and northern California. In addition to its partnerships, its facilities include: Asante Ashland Community Hospital, Asante Rogue Regional Medical Center, Asante Three Rivers Medical Center and Asante Physician Partners. Asante is the only health system in Oregon to be named a 15 Top Health System in the nation five consecutive years, and Asante Rogue Regional Medical Center is the only Oregon hospital named a 100 Top Hospital four years in a row by Truven Health Analytics, a leading provider of information and solutions to improve the quality and cost of healthcare.
About AccentCare
AccentCare, Inc. is a nationwide leader in post-acute healthcare as well as specialized care management prior to acute episodes. Its wide variety of innovative services ranges from personal, non-medical care to skilled nursing, rehabilitation, hospice and care management. Headquartered in Dallas, AccentCare has 20,000 compassionate professionals in over 140 locations across 11 states with regional brands including AccentCare, AccentCare of New York, Alliance For Health, Sta-Home, Texas Home Health, Texas Home Health Group and Guardian Home Health & Hospice. Its mission is to deliver consistently exceptional care for its expanding list of clients/patients and their families.
AccentCare is committed to improving the quality of living for 90,000 individuals each year. Its approach to care consistently exceeds the industry in avoidance of unplanned re-hospitalizations, faster starts of care and quality performance. Among its distinctions, AccentCare has an overall 4.1 quality star rating for home health, with many of its offices holding HomeCare Elite distinctions and its hospice locations holding CHAP accreditations, many with designations from the We Honor Veterans program.