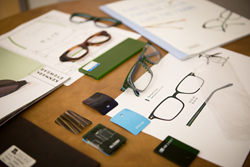 It's a win-win... seeing their ideas come to life, while sharing our expertise
GRAND RAPIDS, Mich. (PRWEB) November 07, 2017
Grand Rapids Ophthalmology (GRO) is collaborating with Kendall College of Art and Design of Ferris State University (KCAD) on a project-based, semester-long program. The primary goal of this Industrial Design IV course is for students to design a line of eyewear products, including a 3D prototype.
"It's win-win for both the students and us," said Casandra Barrett, GRO's Optical Director. "We have the privilege of working alongside fresh, creative minds and seeing their ideas come to life while, at the same time, sharing our expertise with the next generation of designers."
GRO will be involved at every stage of the process; their optical professionals will engage directly with students through presentations, discussions, mid-progress critiques, and ultimately reviewing the students' final projects at the end of the semester.
"This is one of the best courses I've taught," said Tom Edwards, the KCAD Industrial Design Professor leading this project. "There are pragmatic criteria for eyeglasses to be functional yet they can also be a fashion statement. This project leverages a wide range of technology from digital modeling to 3D printing and challenges the students with creating a branded family of products."
The collaboration between GRO and KCAD provides students a realistic working experience with a local company as well as the opportunity to enhance their product design portfolios.
About Grand Rapids Ophthalmology (GRO)
Founded in 1982, Grand Rapids Ophthalmology is the largest fully-integrated eye care medical group in West Michigan. It offers a full suite of eye care services from routine eye exams, contact lenses and glasses, to the most advanced medical and surgical treatments such as LASIK, cataract, cornea, retina, glaucoma, oculoplastics, pediatric, and both cosmetic and reconstructive eyelid surgery. GRO employs the largest number of eye care specialists and professionals in the region: 11 ophthalmologists, 19 optometrists, 40 certified opticians, and 300 support staff in 12 locations throughout West Michigan. For more information, visit: http://www.seeitclear.com.
About Sterling Partners
Sterling Partners is a private equity firm with a distinct point of view on how to build great companies. Founded in 1983, Sterling is guided by its stated purpose, INSPIRED GROWTH®, which describes Sterling's approach to investing in differentiated businesses and growing them in inspired ways. Sterling focuses on investing growth capital in middle-market companies in the healthcare services and business services industries. Sterling provides valuable support to the management teams of the companies in which the firm invests through a deep and dedicated team of professionals, including a strong network of outside directors and advisors. The people at Sterling believe in ideas and ideals, in people and in partnerships that drive long-term success. For more information, visit: http://www.sterlingpartners.com.
About KCAD
Located in the heart of downtown Grand Rapids, Kendall College of Art and Design of Ferris State University (KCAD) is committed to creating lasting impact in West Michigan and beyond through collaborative partnerships, cultural innovation, and an educational model that prepares students for leadership in the visual arts, design, art history, and art education; provides innovative, collaborative education that fosters intellectual growth and individual creativity; and promotes the ethical and civic responsibilities of artists and designers, locally and globally. For more information, please visit http://www.kcad.edu.