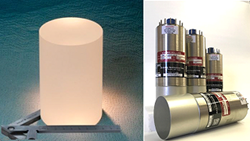 Low Background Cerium Bromide (CeBr3-LB) is available for a price premium of only about 10% to the standard material." remarked Juan Espinoza, Product Manager of Nuclear Instrumentation
SAN RAFAEL, Calif. (PRWEB) October 13, 2017
Berkeley Nucleonics (San Rafael, CA) is now offering an enhanced CeBr3 scintillation crystal that features a significant reduction in intrinsic background than previously available. The new material is offered hermetically sealed in standard or customized assemblies and can be coupled to a variety of light read out devices and electronics. Supported applications vary from Nuclear Medicine to Space Science.
Intrinsic background levels can make peak detection in nuclear spectroscopy difficult. By reducing this background noise, the resultant spectroscopy can be analyzed faster and with more accuracy. Low Background CeBr3 crystals yield less intrinsic activity in the Ac-227 peaks. Standard CeBr3 yields 0.025 c/s/cc compared to 0.00125 c/s/cc for the new Low Background variant.
"Low Background Cerium Bromide (CeBr3-LB) is available for a price premium of only about 10% to the standard material," remarked Juan Espinoza, Product Manager of Nuclear Instrumentation at Berkeley Nucleonics. "We are excited to offer this improved scintillator at such a nominal increase in cost. The enhanced performance coupled to tailor engineered designs will provide a tremendous value to researchers."
Low Background Cerium Bromide (CeBr3) offers an excellent alternative to other high-resolution scintillators that suffer from this disruptive background activity. CeBr3 is also a fast scintillator without any slow components. Sizes ranging from pixels for arrays to volumes as large as 4"x5" cylinders are commercially available. For more information on CeBr3-LB visit Elsevier Publishing under Nuclear Instruments and Methods or contact the factory at 800-234-7858 or info(at)berkeleynucleonics(dot)com.
About Berkeley Nucleonics –
Founded in 1963, Berkeley Nucleonics manufacturers test, measurement and nuclear instrumentation and systems for end users worldwide. We offer the widest family of signal sources, from RF/Microwave to High Voltage, TTL, Light Pulser, NIM and Arbitrary Waveform Generators. Nuclear instrumentation covers lab based and portable systems, from RIIDs and PRDs to Backpack Isotope Identifiers and Scintillation/HPGe laboratory counting systems. Sales offices worldwide address local applications and training/service needs. The company also offers comprehensive training and operation support for RSOs, Rad Workers, Health Physics and First Responders.