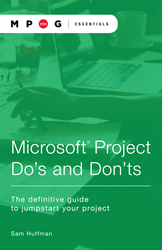 "My philosophy is always to use just what you need to get the job done and no more, which puts the focus on best practices," --Sam Huffman, Author of Microsoft® Project Do's and Don'ts
Ann Arbor, Michigan (PRWEB) October 17, 2017
For every $1 billion invested in projects and programs, organizations waste $97 million.[1] The remedy: a strong culture of project management to help the organization deliver its projects on schedule, in budget and with greater alignment to company goals.
Yet all too often, projects are handed over to individuals without a great deal of project management training or experience. Some of these "accidental" project managers face the daunting prospect of learning how to use Microsoft® Project, a powerful but complex tool, to maintain schedules, make task assignments and deliver project reporting.
A new book published by MPUG, the global community of Microsoft® Project users, aims to make the use of Microsoft® Project simple and straightforward for all users -- whether they are novices or newbies or experienced PMs who want to re-educate themselves about the basics.
The first offering in the new "Essentials" series by MPUG, Microsoft® Project Do's and Don'ts demonstrates the key features of Microsoft® Project to help users set up their projects efficiently to maximize their success and increase their project management efficiency. Adhering to the guidance offered in this concise book will allow readers to set up their projects to maximize success throughout the project lifecycle and avoid the many gotchas that infuse project management.
Microsoft® Project Do's and Don'ts helps readers:

Organize projects to fit specific reporting requirements;
Gain confidence in creating, updating and closing out project plans quickly and correctly; and
Get the most out of Microsoft Project without wasting time or effort.
Author Sam Huffman gained insight into Microsoft® Project while working at Microsoft® as a member of the Microsoft® Project development and support team. He maintains his intimate knowledge of Project with each new release and is considered a leading authority on the tool, including the newest enterprise features of all versions of Project, Project Server and Project Online. Sam has honed his instructional skills by delivering programs for thousands of people every year. His reputation for delivering practical wisdom with an upbeat style has established him as one of the world's leading instructors in Microsoft® Project. He is a certified Project Management Professional (PMP) and has been a popular contributor to MPUG's webinars and articles.
"I designed the content to flow with a project lifecycle. It's important to follow a systematic and repeatable approach to creating, tracking and reporting on a project. My thought is, 'Reuse, don't reinvent,'" he says.
Huffman says he kept the book to under 150 pages to "easily fit into a briefcase or portfolio." That portability, he notes, will encourage readers to keep it close at hand as they're working with Microsoft® Project, whether that's at the office or on the run.
"My philosophy is always to use just what you need to get the job done and no more, which puts the focus on best practices," Huffman adds. "The simpler, the better. It takes do's and don'ts!"
MPUG Essentials' Microsoft® Project Do's and Don'ts was published on September 27, 2017.
Digital edition: $9.99
Print edition: $19.99
MPUG. Where Project Managers and Microsoft® Meet.
MPUG is recognized as the official Industry Association for Microsoft® Project. We deliver online training, deep-dive certificate series sessions, 500+ hours of on-demand training videos, helpful articles and resources, as well as a community forum for all your Microsoft Project Questions.
By combining interpersonal peer collaboration with the most up-to-date online trainings and resources, MPUG's unique structure will help you make the most out of your Microsoft® Project experience. Visit https://www.mpug.com/do for more information.
To request a review copy of the digital edition of Microsoft® Project Do's and Don'ts, contact Karissa Clampit at info@mpug.com.
Source
[1] Project Management Institute®, "Pulse of the Profession | 2017," https://www.pmi.org/-/media/pmi/documents/public/pdf/learning/thought-leadership/pulse/pulse-of-the-profession-2017.pdf.