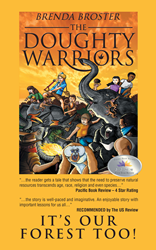 London (PRWEB) October 16, 2017
Brenda Broster spent part of her childhood in Malaysia, which had, at the time, an extensive rainforest. But upon a trip back to Malaysia in 2007 as an adult, Broster was shocked to see nothing but palm oil trees as far as the eye could see. Heartbroken, she felt the need to do something about it, and "The Doughty Warriors" series was born.
In her new book, the first in a series of rollicking adventures set in the Asian rainforest, "The Doughty Warriors: It's Our Forest Too!," tells the story of six young friends of different ethnicities who live in the rainforest and decide to save it from being set aflame by the evil palm oil baron.
With the help of their parents, animal friends, and religious communities, the Doughty Warriors work to save the rainforest and its native animals, underlying the importance of children coming together and using their voices and actions to save the forest.
"Our rainforests, plants, and wildlife, are in dire need of attention and saving," Broster said. "Since children are the future of our world, who better to help save our rainforests, and indeed, our planet?"
In "The Doughty Warriors: It's Our Forest Too!," children, parents, and educators, can follow along with The Doughty Warriors on their adventure and be inspired to make the world a more greener place.
"The Doughty Warriors: It's Our Forest Too!"
By: Brenda Broster
ISBN: 978-1-5246-6141-0 (sc); 978-1-5246-6140-3 (e)
Available at the Authorhouse Online Bookstore and Amazon
About the author
Brenda Broster had an extraordinary childhood. In Asia, she learned about different cultures and religions, explored the rainforest, and visited temples, shrines, and ancient ruins. In Africa, she watched the wildebeest migration, lions hunt their prey, and hundreds (yes, hundreds) of elephants in vast herds on the plains. With her father, she spent many hours in the bush with just a pair of binoculars, a flask of water, and a sandwich. As an adult, Broster was the runner up for the UK Businesswoman of the Year Award. Though no matter what she was doing, Broster always wrote if she could find the time. She has also written two other books in "The Doughty Warriors" series: "Save the Bears" and "All At Sea" and is working on a fourth book, "It's a Puzzle" which will be released in 2018. For more information about the author and her books, please visit: http://www.thedoughtywarriors.com
# # #