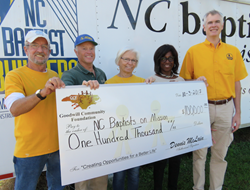 DURHAM, N.C. (PRWEB) October 12, 2017
Goodwill Community Foundation (GCF®) donated $100,000 toward disaster relief and recovery efforts for the second year in a row. GCF has again partnered with Baptists on Mission, formerly known as NC Baptist Men, an auxiliary of the Baptist State Convention of North Carolina, to help victims of the recent hurricanes in Florida, Texas, and Puerto Rico. GCF presented a check at Pineview Baptist Church, 3357 US Highway 117 N, in Goldsboro last week.
Last year GCF made a gift of $100,000 to NCBM for recovery, relief and rebuilding efforts in eastern North Carolina as a result of Hurricane Matthew. Over the better part of the last decade, GCF has donated $400,000 to the organization.
"Goodwill Community Foundation has been working through the Baptist men in disaster relief for several years, because they are on the ground and continue to work in devastated communities after other organizations leave. Part of our dedication to creating opportunities for a better life is to find organizations like this to support," says Rev. Dennis McLain, GCF president.
The Goldsboro location is one of five different sites for coordinating and rebuilding efforts still underway from Matthew (Windsor, Goldsboro, Warsaw, The Black River in Pender County, and Lumberton). Of these sites, 95 homes have been rebuilt since Hurricane Matthew hit on October 8, 2016. Part of last year's GCF donation helped open the new NC Baptist Men Rebuild Center in Lumberton which houses volunteers from all over the country who travel to the area to assist communities hardest hit by the storm.
"Gifts like this make it possible for us to serve those who have suffered from a disaster. Because of this support we can reach more people and provide more assistance from a physical and emotional perspective. Oftentimes after a disaster what people need most is hope. Our goal is to ensure they have both the home they need along with an understanding of the love of Jesus Christ," says Gaylon Moss, Disaster Relief Director, Baptists On Mission/NC Baptist Men.
This donation demonstrates GCF's mission to "Create Opportunities for a Better Life" for those in need of food, shelter and disaster relief throughout the time it will take for families and communities to recover. GCF's donation will help with recovery efforts in areas recently devastated by hurricanes Harvey, Irma, and Maria. All of the funds from the donation will go directly toward disaster relief and recovery efforts.
About Goodwill Community Foundation (GCF®)
Goodwill Community Foundation (GCF®) continues to be a leader in an era of change by providing the training required for the emerging world where technology is integrated into everyday life. The GCF Community Foundation, a Durham-based tax-exempt organization, provides employment, fresh produce and volunteer opportunities, family services for parents with children with disabilities and free accounting services to youth programs across eastern North Carolina. All GCF programs are funded through revenue generated from the value of donated items to 41 Goodwill Community Foundation stores throughout eastern North Carolina. For more information on GCF®, visit http://www.GCFGlobal.org.
About NC Baptist Men/Baptists on Mission (NCBM)
NC Baptist Men/Baptists on Mission (NCBM) is an auxiliary of the Baptist State Convention of North Carolina (BSCNC). Disaster relief is one of 18 different ministries of NCBM, whose goal is to help churches involve their members in missions and ministry. For more information on NCBM, visit http://www.baptistsonmission.org.