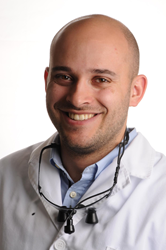 New York, NY (PRWEB) October 17, 2017
Dr. Alexander Volchonok of AVPeriodontics recently achieved his certification in Invisalign® orthodontics. As a board-certified periodontist, Dr. Volchonok is combining this certification with his periodontal expertise to educate patients on the link between orthodontics and periodontics. Invisalign uses removable aligners to straighten teeth, providing an advantage when it comes to oral health and periodontal care. Dr. Volchonok helps patients affected by gum disease find out if they can benefit from Invisalign in New York, NY.
Crowded or crooked teeth can make oral hygiene routines difficult. Even if patients choose to straighten their teeth with traditional orthodontics, the metal brackets and wires can create a challenge for keeping teeth and gums clean during treatment. Without proper care, the onset of gum disease and gum recession is more likely, as bacteria and plaque gather under the brackets and begin affecting the gums. Cleaning teeth and gums is much easier with the use of Invisalign due to the removable aligners. Patients are able to remove the clear, plastic aligners to allow for adequate brushing and flossing in order to prevent gum disease from developing.
Dr. Volchonok is also able to use Invisalign as a form of orthodontics for those already affected by periodontal disease. Gum disease and bone loss can make traditional orthodontics an unlikely solution, but with the gentle and minimally invasive nature of Invisalign, tooth alignment is still a possibility. Dr. Volchonok can combine Invisalign with periodontal care to assist those who were told they are not a candidate for braces. The benefits of orthodontic treatment include:

Straight teeth
Easier at-home cleaning
Reduced risk of gum disease
Stronger bite
Healthy gum line
Along with being removable for easier cleaning of teeth and gums, Invisalign is also a discreet method of tooth alignment, being virtually invisible while in the mouth. Those seeking Invisalign in New York, NY, can contact Dr. Volchonok for a consultation to find out if they are a candidate. Appointments can be made by calling AVPeriodontics at 929-293-0200 or visiting the website at http://www.avperio.com.
About the Doctor
AVPeriodontics is a modern periodontal practice offering leading care to patients in New York, NY and Norwalk, CT. Dr. Alexander Volchonok is a Diplomate of the American Board of Periodontology, director and co-founder of the NYC Interdisciplinary Study Club and has lectured both nationally and internationally on various periodontal and dental implant related topics. Dr. Volchonok is dedicated to pioneering the latest minimally invasive techniques to periodontics and implant dentistry and takes a collaborative approach to patient care. To learn more about Dr. Volchonok, the services he offers, or his practice, AV Periodontics, visit his website at http://www.avperio.com or call his practice at 929-293-0200 to schedule a personalized consultation.