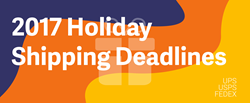 our goal is to lessen the stress on our e-commerce merchants during the business holiday shipping season
AUSTIN, Texas (PRWEB) October 13, 2017
ShipStation, the leading web-based e-commerce shipping solution, today released their 6th annual infographic offering the shipping cutoff dates for the upcoming holiday season.
The infographic includes information from the top three U.S. shipping carriers, FedEx, UPS and USPS. The ship-by dates provide helpful information to online sellers as well as shoppers to make sure their gift orders arrive in advance of the holidays.
This infographic is the first item launched during ShipStation's fourth quarter #shiptheseason tagged series of holiday shipping tips on social media.
"We always look forward to ShipStation's holiday shipping infographic," says Hayley Mullin, Partner/Owner of Sock Prints, a ShipStation customer. "It's an easy tool to help us keep track of holiday shipping deadlines."
ShipStation began collecting the ship-by dates and sharing them with the e-commerce world back in 2012. Each year the company works to get the infographic out as early as possible, and now consistently provides it to online merchants and shoppers in early October.
"ShipStation's holiday shipping infographic is one of our most popular pieces of shipping tips content and I'm not surprised," says ShipStation's Vice President of Marketing, Robert Gilbreath. "Each year our goal is to lessen the stress on our e-commerce merchants during the business holiday shipping season, by providing clear ship-by dates as early as possible."
View ShipStation's 2017 Holiday Shipping Deadline infographic at shipstation.com/holiday
About ShipStation
ShipStation is the leading web-based shipping solution that helps e-commerce retailers import, organize, process, and ship their orders quickly and easily from any web browser. ShipStation features the most integrations of any e-commerce web-based solution with over 150 shopping carts, marketplaces, package carriers, and fulfillment services. ShipStation's many integration partners include eBay, Jet, PayPal, Amazon, Etsy, BigCommerce, Woocommerce, Shopify Plus, Squarespace, and Magento; along with carriers such as FedEx, USPS, UPS, Canada Post, Australia Post, Royal Mail, and DHL. ShipStation has sophisticated automation features such as automated order importing, custom best practice rules, product profiles, and fulfillment solutions that enable its users, wherever they sell and however they ship, to be exceptionally efficient at shipping orders. ShipStation is a wholly-owned subsidiary of Stamps.com (Nasdaq: STMP). For more information, visit http://www.shipstation.com.