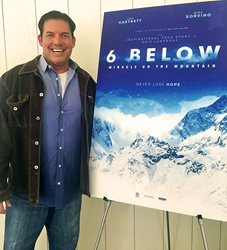 You sometimes have to lose part of yourself, maybe even the part you love the most, before you can really know what makes you whole.
Agoura Hills, Ca. (PRWEB) October 12, 2017
NovaStor is proud to announce that 6 Below "Miracle on the Mountain", a movie based on the life of Eric LeMarque, a NovaStor team leader, is being launched in theatres across the US. The movie chronicles Eric's rise to the most elite levels of his sport, his life altering battle against freezing temperatures, a mountain and his own personal demons and his literal climb back to the successful person he has become today.
 
The movie is directed by Scott Waugh (Act of Valor, Need For Speed) and stars Josh Hartnett (Black Hawk Down, Pearl Harbor) as Eric with Academy Award winning actress Mira Sorvino (Mighty Aphrodite) in the role of his mother.  Eric's story is more than just his time on the mountain, it's about believing in something larger than yourself, motivation to overcome the greatest odds and the realization that addiction knows no bounds. 
 
"It's a story of addiction, but it's more than that. It's also about how you sometimes have to lose part of yourself, maybe even the part you love the most, before you can really know what makes you whole," said Eric LeMarque referring to the loss of his legs as a result of frostbite from the eight days he was trapped on the mountain. "My addictions to powder, to speed and to snow, were symptoms of a life out of balance. What replaced them—an incredible wife and beautiful family—they are the down payments on a future I never imagined could be mine."
 
"NovaStor congratulates Eric on his perseverance towards making this movie a reality, but even more so on his success at becoming a leader, inspiring others, and being an all-around great human being," said Mike Andrews, Managing Director at NovaStor.  "Eric is truly a survivor in all senses and a great role model who seeks out the opportunity in whatever life deals him."
Today Eric is a successful husband, father, motivational speaker and major contributor to NovaStor's success.  
 
Watch the "6 Below – Miracle on the Mountain" movie trailer.
Get movie tickets or consider purchasing the book.
Book Eric to speak to your team.
About NovaStor 
NovaStor® (http://www.novastor.com) represents "Backup for the Rest of Us" by empowering overwhelmed and underfunded IT administrator's with all-inclusive, fast, highly scalable, budget sensitive data backup solutions for both physical and virtual environments.  NovaStor's disruptive approach redefines service by including personalized local, expert level professional services as part of every solution - helping ease the enormous expectation being placed on maintaining a working, compliant backup under even the strictest of budgets. NovaStor's global references range in size from small highly regulated verticals to F500 environments with thousands of servers and PetaBytes of data.